UK PRE MARKET
The FTSE 100 Futures are trading at 7,348.00  with a loss of -0.14% percent or -10.50 point. The CAC 40 Futures are trading at 5,105.5 with a loss of -0.20%percent or -10.0 point . The DAX Futures are trading at 12,134.50  with a loss of -0.26% percent or -32.00 point . The EURO Stoxx 50 Futures are trading at 3,448.0 with a loss of -0.32% percent or    -11.0 point.
TODAY'S FACTORS AND EVENTS
London stocks ended the session slightly lower following some corporate dividend disappointments and the release of disappointing UK construction data, although sterling seemed to take the news in its stride.
The FTSE 100 was down 0.16% or 12.23 points to 7,411.43 , while the pound was up 0.3% against the dollar at 1.3239 but down by the same proportion versus the euro at 1.1158.
Data released on Wednesday showed UK construction activity fell to an 11-month low in July due to a softening of commercial building amid political and economic anxiety, while building material costs rose at the one of the fastest rates seen for six years.
PREVIOUS DAY ACTIVITY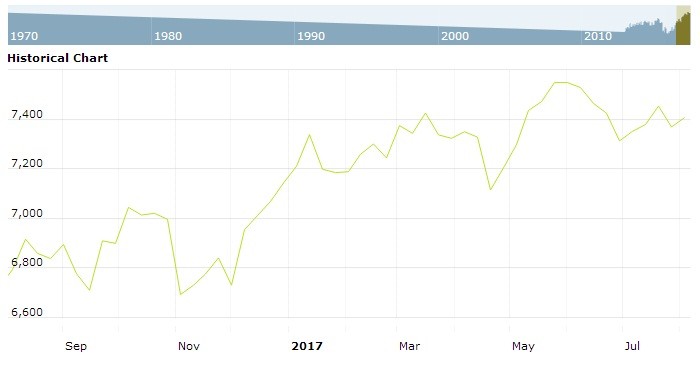 For the day the FTSE 100 closed at 7,411.43 with  a loss of –0.16% percent or –12.23 point. France's CAC 40 closed at 5,107.25 with a loss of  –0.39% percent or –19.77 point. Germany's DAX closed at 12,181.48  with a loss of  –0.57% percent or –69.81 point.
WORLD MARKETS
For the day the Dow are trading at 22,016.24 for up with +0.24% percent or +52.32 point. The S&P 500 are trading at 2,477.57 for up with +0.05% percent or +1.22 point. The Nasdaq Composite are trading at 6,362.64  with  –0.00% percent or –0.29 point.
In other parts of world, Japan's Nikkei 225 are trading at 20,029.26 with a loss of –0.25% percent or –50.78 point. Hong Kong's Hang Seng are trading at 27,541.99  with a loss of –0.24% percent or –65.39 point. China's Shanghai Composite are trading at 3,269.79 with a loss of –0.46% percent or –15.27 point. India's S&P BSE Sensex are trading at 32,329.39 with a loss of –0.45% percent or –147.35 point at 12:15 PM .