UK PRE MARKET
The FTSE 100 Futures are trading at 7,373.80 for up with +0.10% percent or +7.30 point. The CAC 40 Futures are trading at 5,126.50 for up with +0.03% percent or +1.50 point . The DAX Futures are trading at 12,259.00 for up with +0.07% percent or +8.00 point . The EURO Stoxx 50 Futures are trading at 3,473.00  with +0.00% percent or +0.00% point.
TODAY'S FACTORS AND EVENTS
London stocks were set for a firmer open on Wednesday, tracking gains on Wall Street after tech giant Apple's third-quarter earnings beat expectations, pushing the shares to an all-time high in after-hours trading.
The FTSE 100 was expected to open 12 points higher at 7,434.
CMC Markets analyst Michael Hewson said: "The company beat expectations on profits and revenues, while also reassuring that there would be no delay on the iPhone 8 which is due to be released this year, and where there was some concern due to supplier problems. The App store also continued to deliver more revenue, with sales rising 22% in the quarter to $7.3bn."
On the UK data front, the construction purchasing managers' index is at 0930 BST.
PREVIOUS DAY ACTIVITY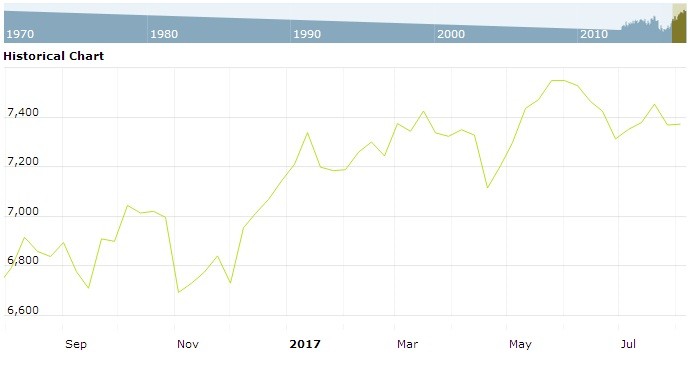 For the day the FTSE 100 closed at 7,423.66 for up with +0.70% percent or +51.66 point. France's CAC 40 closed at 5,127.03 for up with   +0.65% percent or + 33.27 point. Germany's DAX closed at 12,251.29 for up with +1.10% percent or  +133.04 point.
WORLD MARKETS
For the day the Dow are trading at 21,963.92 for up with +0.33% percent or +72.80 point. The S&P 500 are trading at 2,476.35 for up with  +0.24% percent or  +6.05 point. The Nasdaq Composite are trading at 6,362.94 for up with  +0.23% percent or  +14.81 point.
In other parts of world, Japan's Nikkei 225 are trading at 20,080.04 for up with +0.47% percent or +94.25 point. Hong Kong's Hang Seng are trading at 27,701.53 for up with +0.59% percent or +161.30 point. China's Shanghai Composite are trading at 3,285.06 with a loss of 0.23% percent or –7.58 point. India's S&P BSE Sensex are trading at 32,545.06 with a loss of  –0.09% percent or  –30.11 point at 12:15 PM .