UK PRE MARKET
The FTSE 100 Futures are trading at 7,425.80 for up with  +14.30 percent or +0.19% point. The CAC 40 Futures are trading at 5,139.00 for up with  +0.18%percent or +9.00 point . The DAX Futures are trading at 12,168.80 for up with  +0.16% percent or +19.80 point . The EURO Stoxx 50 Futures are trading at 3,465.0 for up with  +0.06% percent or  +2.0 point.
TODAY'S FACTORS AND EVENTS
European stocks are slightly higher towards the start of the day, overcoming early losses due to strength in the single currency as a result of the continued news-flow regarding the official inquiry into the US administration's relations with Russia.
As of 1000 BST, the benchmark Stoxx 600 was edging higher by 0.03% or 0.11 points to 379.04, with the Cac-40 up by 0.07% or 7.57 and changing hands at 12,162.51 while the Dax was 0.07% or 8.05 points higher at 12,.162.64.
In parallel, the euro was standing 0.09% taller at 1.1881.
Overnight, the Wall Street Journal reported that US special counsel Robert Mueller impaneled a grand jury to investigate Russia's possible interference in the 2016 elections, in a possible sign that the probe was gathering intensity
PREVIOUS DAY ACTIVITY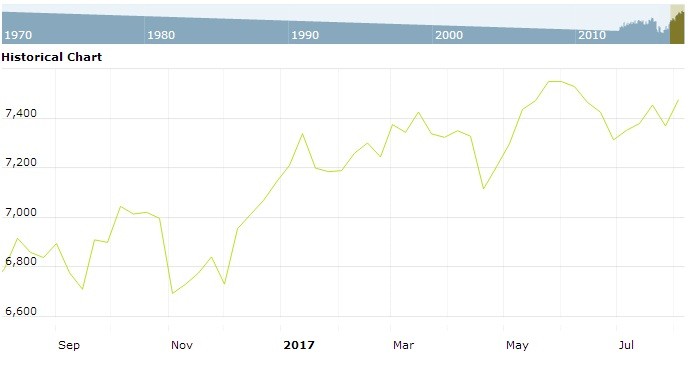 For the day the FTSE 100 closed at 7,480.73 for up with  +0.08% percent or  +5.96 point. France's CAC 40 closed at 5,143.72 for up with  +0.26% percent or +0.26% point. Germany's DAX closed at 12,183.92 with a loss of  –0.35% percent or –22.30 point.
WORLD MARKETS
For the day the Dow are trading at 22,026.10 for up with +0.04% percent or +9.86 point. The S&P 500 are trading at 2,472.16 with a loss of –0.22% percent or –5.41 point. The Nasdaq Composite are trading at 6,340.34 with a loss of –0.35% percent or –22.30 point.
In other parts of world, Japan's Nikkei 225 are trading at 19,952.33 with a loss of –0.38% percent or –76.93 point. Hong Kong's Hang Seng are trading at 27,562.68 for up with  +0.12% percent or +31.67point. China's Shanghai Composite are trading at 3,262.08 with a loss of –0.33% percent or –10.85 point. India's S&P BSE Sensex are trading at 32,325.41 for up with  +0.27% percent or +87.53 point at 12:15 PM .