UK PRE MARKET
The FTSE 100 Futures are trading at 7,379.20 with a loss of -0.19% percent or -14.30 point. The CAC 40 Futures are trading at 5,134.5 with a loss of –0.11% percent or –5.5 point . The DAX Futures are trading at 12,214.50 with a loss of -0.24% percent or -29.10 point . The EURO Stoxx 50 Futures are trading at 3,450.0 with a loss of –0.09% percent or   -3.0 point.
TODAY'S FACTORS AND EVENTS
UK stocks were lacklustre on Monday as oil and stocks plunged but investors mulled yet more waxing and waning of Brexit negotiations, proving that uncertainty is the only certainty surrounding the issue.
As per usual, investors took their cue from US markets in the afternoon which saw some money coming off the table taking the market from the day's high of 7,516.70 to below 7,440 by mid afternoon before ending the session at 7,452.91.
On the corporate front, Vodafone saw one of the strongest rises after reporting a 2.2% increase in first quarter organic service revenue to €11.5bn, supported by growth in all its operations excluding India and UK markets, closing the session at 226.00, up 0.49% on the day.
PREVIOUS DAY ACTIVITY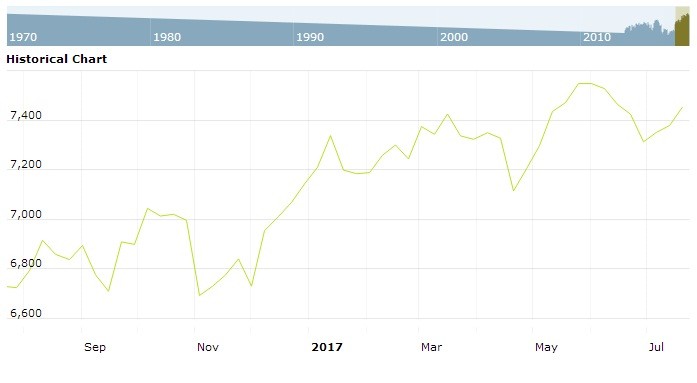 For the day the FTSE 100 closed at 7,452.91 with a loss of –0.47% percent or –34.96 point. France's CAC 40 closed at 5,116.00 with a loss of –1.60% percent or – 83.21 point. Germany's DAX closed at 12,240.06 with a loss of –1.66% percent or –207.19 point.
WORLD MARKETS
For the day the Dow are trading at 21,580.07 with a loss of –0.15% percent or –31.71 point. The S&P 500 are trading at 2,472.54 with a loss of –0.04% percent or –0.91point. The Nasdaq Composite are trading at 6,387.75 with a loss of –0.04% percent or  –2.25 point.
In other parts of world, Japan's Nikkei 225 are trading at 19,975.67 with a loss of –0.62% percent or –124.08 point. Hong Kong's Hang Seng are trading at 26,819.96 for up with  +0.43% percent or  +113.87 point. China's Shanghai Composite are trading at 3,256.31 for up with  +0.57% percent or  +18.33 point. India's S&P BSE Sensex are trading at 32,218.55 for up with +0.59% percent or +189.66 point at 12:15 PM .