UK PRE MARKET
The FTSE 100 Futures are trading at 7,289.80 with a loss of -0.13% percent or -9.70 point. The CAC 40 Futures are trading at 5,155.50 with a loss of -0.14% percent or -7.00 point . The DAX Futures are trading at 12,450.80 with a loss of  -0.27% percent or -33.80 point . The EURO Stoxx 50 Futures are trading at 3,464.48 with a loss of –0.39% percent or -13.58point.
TODAY'S FACTORS AND EVENTS
Wednesday saw both stock and bond markets bounce back following last week's falls. The move was partly driven by short-side profit-taking as the pace of the selling had already slowed down at the end of last week. The lack of any major economic news at the start of this week and quiet market conditions meant speculators found it hard to justify pushing the 'sell' bottom again without a reason or a small pullback first. But after Monday's bounce and a firmer open this morning, bearish speculators evidently stepped back in at relatively higher levels.
European stock indices were quick to surrender sharp gains about an hour after the open. Apart from a few disappointing earnings results, there were no obvious triggers behind this latest sell-off. It appears as though investors are becoming increasingly concerned about the prospects of tighter monetary conditions across many developed economies as central banks move away from the era of zero interests amid rising levels of inflation and economic growth. As interest rate expectations rise, certain higher-yielding stock market sectors may lose their attractiveness on valuation concerns. So far however we haven't seen a big enough drop to validate this view, but that could only be a matter of time.
PREVIOUS DAY ACTIVITY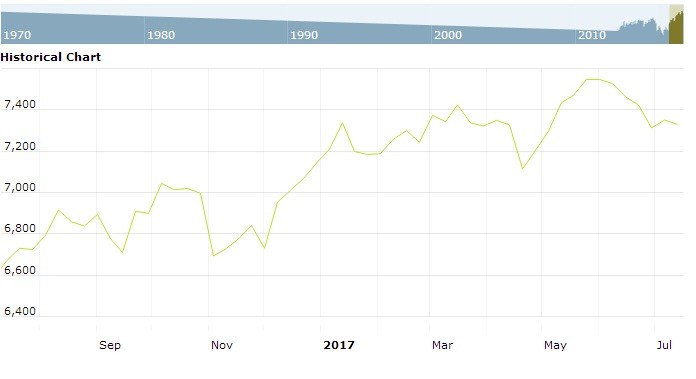 For the day the FTSE 100 closed at 7,329.76 with a loss of –0.55% percent or –40.27 point. France's CAC 40 closed at 5,140.60 with a loss of 0.48% percent or –25.04 point. Germany's DAX closed at 12,437.02 with a loss of –0.07% percent or –8.90 point.
WORLD MARKETS
For the day the Dow are trading at 21,409.07 with 0.00% percent or +0.55 point. The S&P 500 are trading at 2,425.53  with a loss of –0.08% percent or – 1.90 point. The Nasdaq Composite are trading at 6,193.30 for up with of +0.27% percent or +16.91 point.
In other parts of world, Japan's Nikkei 225 are trading at 20,098.38 with a loss of-0.48% percent or –97.10 point. Hong Kong's Hang Seng are trading at 26,037.11 for up with +0.63% percent or +162.42 point. China's Shanghai Composite are trading at 3,189.70 with a loss of –0.42% percent or –13.34point. India's S&P BSE Sensex are trading at 31,735.22  with a loss of  –0.04% percent or –11.87 point at 12:15 PM .