UK PRE MARKET
The FTSE 100 Futures are trading at 7,319.0 for up with +0.25% percent or +18.5 point. The CAC 40 Futures are trading at 5,175.5 for up with +0.30% percent or +15.50 point . The DAX Futures are trading at 12,443.50 for up with +0.08% percent or +4.0 point . The EURO Stoxx 50 Futures are trading at 3,479.0 for up with +0.12% percent or +4.0 point.
TODAY'S FACTORS AND EVENTS
London's FTSE 100 ended higher tracking a positive start to the session on the other side of the Pond, but its little sister went the other way as a profit warning from infrastructure and construction group Carillion took its toll.
The FTSE 100 ended up 0.26% at 7,370.03 but the mid-cap index was down 0.19% to 19,357.41. In currency markets, the pound was off 0.1% against the dollar at 1.2883 and essentially flat versus the euro at 0.8847.
Crude oil prices reversed early losses amid ongoing worries about oversupply following a brief recovery after last week's selloff. At the closing bell, Brent crude was up 0.7% to $47.02 a barrel.
PREVIOUS DAY ACTIVITY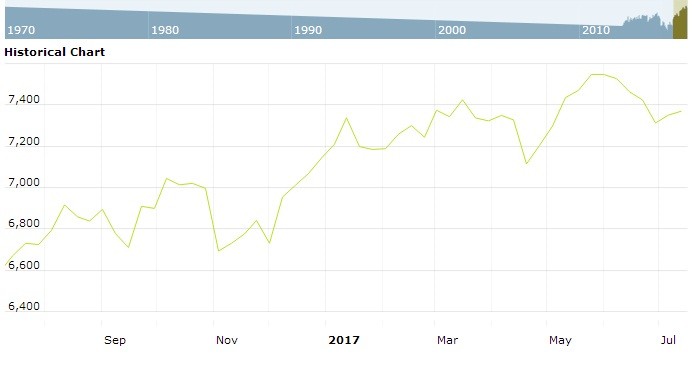 For the day the FTSE 100 closed at 7,370.03 for up with 0.26% percent or +19.11 point. France's CAC 40 closed at 5,165.64 for up with +0.40% percent or +20.48 point. Germany's DAX closed at 12,445.92 for up with +0.46% percent or +57.24 point.
WORLD MARKETS
For the day the Dow are trading at 21,408.52 with a loss of –0.03% percent or +5.82 point. The S&P 500 are trading at 2,427.43 for up with +0.09% percent or +2.25 point. The Nasdaq Composite are trading at 6,176.39 for up with of +0.38% percent or +23.31 point.
In other parts of world, Japan's Nikkei 225 are trading at 20,195.48 for up with +0.57% percent or +114.50 point. Hong Kong's Hang Seng are trading at 25,879.50 for up with +1.49% percent or +379.44 point. China's Shanghai Composite are trading at 3,203.16 with a loss of –0.29% percent or –9.47 point. India's S&P BSE Sensex are trading at 31,838.34 for up with + 0.39% percent or +22.70 point at 12:15 PM .