UK PRE MARKET
The FTSE 100 Futures are trading at 7,364.80 for up with  +0.10% percent or +7.30 point. The CAC 40 Futures are trading at 5,255.50 for up with  +0.64% percent or +33.50 point . The DAX Futures are trading at 12,647.00 for up with  +0.13% percent or +17.00 point . The EURO Stoxx 50 Futures are trading at 3,529.0 for up with  +0.43% percent or +15.0 point.
TODAY'S FACTORS AND EVENTS
European stocks began the morning trading on the front foot following the previous day's dovish Congressional testimony from US Federal Reserve chief Janet Yellen.
To take note of, German Chancellor Angela Merkel and French president Emmanuele Macron were scheduled to hold a joint cabinet meeting in Paris, with the US President set to travel to the French capital on the same day.
As of 0907 BST, the Stoxx 600 was ahead by 0.26% opr 0.99 points to 385.89, alongside a gain of 0.17% or 8.83 points to 5,231.29 for Paris's Cac-40 and an advance of 0.11% for the FTSE Mibtel to 21,457.45.
Commenting on the Fed chief's testimony, Mickey Levy and Roiana Reid at Berenberg Capital Markets said: "Note that the real Fed funds rate remains negative but less so as a consequence of the downward drift in inflation as well as the Fed rate hikes
PREVIOUS DAY ACTIVITY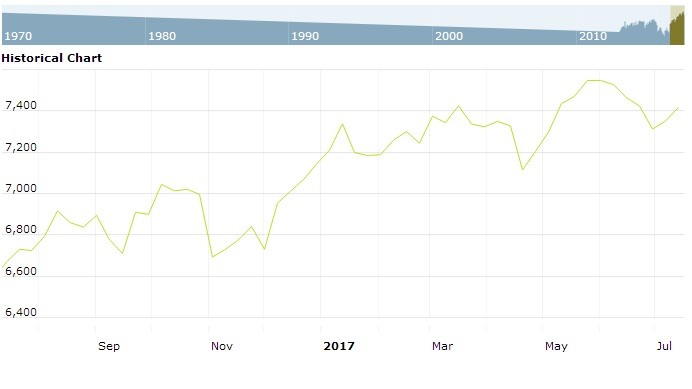 For the day the FTSE 100 closed at 7,425.25 for up with  +0.11% percent or +8.32 point. France's CAC 40 closed at 5,256.76 for up with  +0.66% percent or +34.68 point. Germany's DAX closed at 12,657.19 for up with  +0.24% percent or  +30.66 point.
WORLD MARKETS
For the day the Dow are trading at 21,532.14 for up  with 0.57% percent or +123.07 point. The S&P 500 are trading at 2,443.25 for up with  +0.73% percent or +17.72 point. The Nasdaq Composite are trading at 6,261.17 for up with of +1.10% percent or +67.87 point.
In other parts of world, Japan's Nikkei 225 are trading at 20,099.81 for up with +0.01% percent or +1.43 point. Hong Kong's Hang Seng are trading at 26,346.17 for up with +1.16% percent or +302.53 point. China's Shanghai Composite are trading at 3,218.16 for up with  +0.64% percent or +20.62 point. India's S&P BSE Sensex are trading at 32,037.38 for up with  +0.73% percent or 232.56 point at 12:15 PM .