The FTSE 100 Futures is trading at 7,220.50   with a loss of -0.15% percent or -10.80 point. The CAC 40 Futures is trading at 5,870.50 up with +1.26% percent or +73.00 point. The DAX Futures is trading at 13,166.00  with a loss of -0.10% percent or -14.80 point. The EURO Stoxx 50 Futures trading at 3,686.00 with a loss of -0.16% percent or -6.00 point.
TODAY'S FACTORS AND EVENTS
London stocks pared their weekly loss thanks to signs of progress in Sino-US trade relations and the release of data showing US unemployment back again at 50-year lows last month.
At the session close, the FTSE 100 was up 1.43% at 7,239.66, while the pound was down 0.2% against the US dollar at 1.3123 but 0.2% higher versus the euro to 1.1873 amid growing conviction that the next general elections would not return a hung Parliament.
YESTERDAY ACTIVITY
For the day the FTSE 100 closed at 7,239.66 up with +1.43% percent or +101.81 point. France's CAC  40 closed at 5,871.91 up with +1.21% percent or +70.37 point.Germany's DAX closed at 13,166.58 up with +0.86% percent or +111.78 point.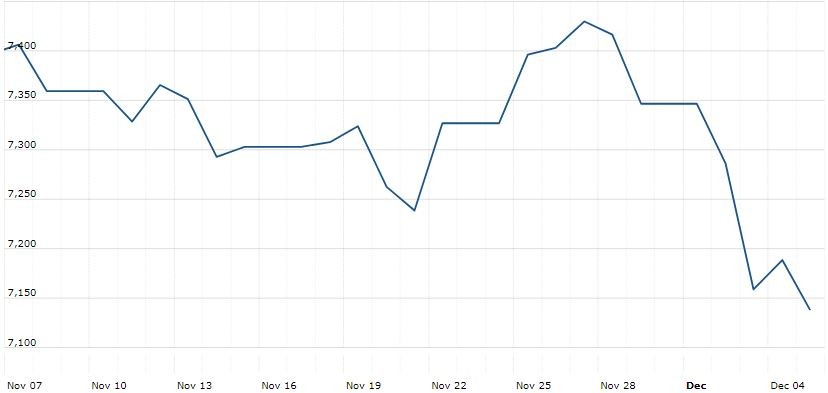 WORLD MARKETS
For the day the Dow is trading at 28,015.06 up with +1.22% percent or  +337.27 point. The S&P 500 is trading at 3,145.91  up with +0.91% percent or +0.91% point. The Nasdaq Composite is trading at 8,656.53 up with +1.00% percent or +85.83 point.
In other parts of world, Japan's Nikkei 225 is trading at 23,430.70 up with +0.33% percent or +76.30 point. Hong Kong's Hang Seng is trading at 26,507.19 up with +0.033% percent or +8.82 point. China's Shanghai Composite is trading at 2,912.42  up with +0.014% percent or +0.40  point. India's BSE Sensex is trading at 40,523.02  up with +0.19% percent or +77.87  point at 12:15 PM.