The FTSE 100 Futures is trading at 7,251.50 up with +0.08% percent or +5.50 point. The CAC 40 Futures is trading at 5,745.20  up with +0.32%percent or +18.20 point. The DAX Futures is trading at 12,921.00  up with +0.23% percent or +29.80 point. The EURO Stoxx 50 Futures trading at 3,612.00 up with +0.17% percent or +6.00 point.
TODAY'S FACTORS AND EVENTS
David Cheetham, chief market analyst at XTB, said the market's sensitivity to such news was exemplified on Wednesday, when a smaller but similar move occurred following reports that the Asia-Pacific Economic Cooperation (APEC) summit in Chile – where the US and China were expected to sign the first phase of a trade deal – was cancelled amid ongoing political protests in the South American country.
"Traders and headline-scanning algos rushed to sell stocks on it before the realisation that the cancellation was solely due to civil unrest in the country at present and not because of a breakdown in US-Sino negotiations saw the moves reversed," he said.
YESTERDAY ACTIVITY
For the day the FTSE 100 closed at 7,248.38  with a loss of –1.12% percent or –82.40 point. France's CAC  40 closed at 5,729.86 with a loss of –0.62%  percent or –36.00 point.Germany's DAX closed at 12,866.79 with a loss of -0.34% percent or –43.44   point.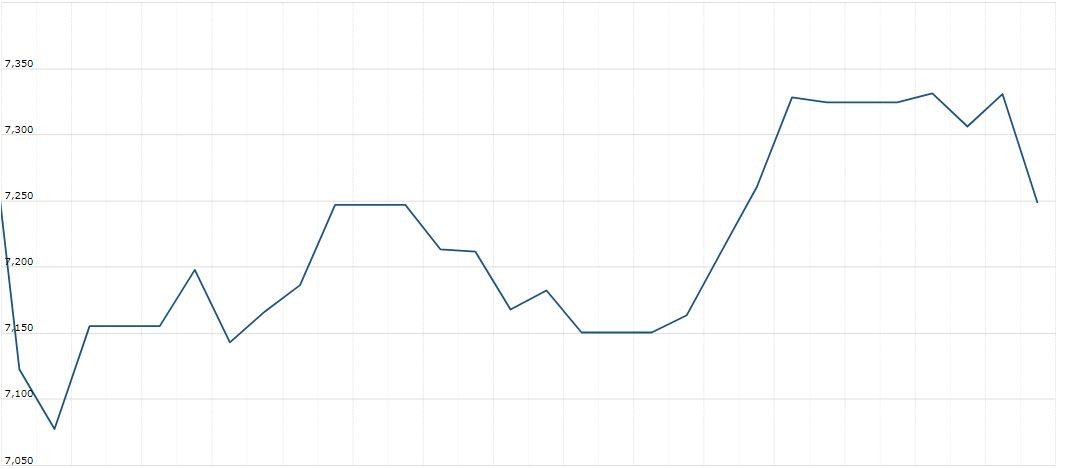 WORLD MARKETS
For the day the Dow is trading at 27,046.23  with a loss of –0.52% percent or  –140.46 point. The S&P 500 is trading at 3,037.56 with a loss of –0.30% percent or –9.21 point. The Nasdaq Composite is trading at 8,292.36   with a loss of –0.14% percent or 11.62 point.
In other parts of world, Japan's Nikkei 225 is trading at 22,850.77  with a loss of –0.33% percent or –76.27 point. Hong Kong's Hang Seng is trading at 27,047.94 up with +0.52% percent or +141.22 point. China's Shanghai Composite is trading at 2,958.20 up with +0.99% percent or +29.14  point. India's BSE Sensex is trading at 40,075.35 with a loss of –0.13% percent or –53.70  point at 12:15 PM.