UK PRE MARKET
The FTSE 100 Futures are trading at 7,349.20 for up with +0.04% percent or +2.70 point. The CAC 40 Futures are trading at 5,066.50 for up with +0.10% percent or +5.00 point . The DAX Futures are trading at 12,078.80  with  a loss of  -0.02% percent or -2.90 point . The EURO Stoxx 50 Futures are trading at 3,409.00 for up with  +0.12% percent or +4.00 point.
TODAY'S FACTORS AND EVENTS
The dollar edged down against the yen on Wednesday, pushed back toward a recent 4-1/2-month low by simmering tensions on the Korean peninsula and by comments from a Federal Reserve official about subdued U.S. inflation.

The dollar fell 0.1 percent to 108.72 yen and touched a low near 108.50 yen in Asian trading. That brought it back close to its Aug. 29 nadir of 108.265 yen, its weakest since mid-April.

The Swiss franc rose slightly on the day to 0.9549 franc per dollar, with the franc having gained about 1 percent so far this week.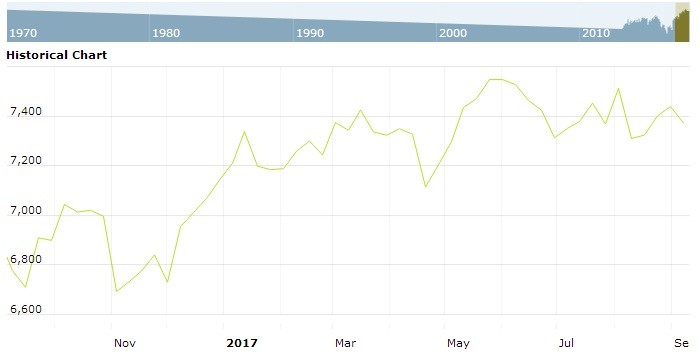 For the day the FTSE 100 closed at 7,372.92 with a loss of –0.52%percent or –38.55 point. France's CAC 40 closed at 5,086.56 with a loss of –0.34% percent or –17.41 point. Germany's DAX closed at 12,123.71 for up with +0.18% percent or  +21.50 point.
WORLD MARKETS
For the day the Dow are trading at 21,753.31 with a loss of –1.07% percent or –234.25 point. The S&P 500 are trading at 2,457.85  with a loss of  –0.76% percent or 18.70 point. The Nasdaq Composite are trading at 6,375.57  with a loss of  –0.93% percent or –59.76 point.
In other parts of world, Japan's Nikkei 225 are trading at 19,357.97 with a loss of –0.14% percent or –27.84 point. Hong Kong's Hang Seng are trading at 27,609.89 with a loss of –0.47% percent or –131.46 point. China's Shanghai Composite are trading at 3,383.93  with a loss of  –0.01% percent or –0.38 point. India's S&P BSE Sensex are trading at 31,673.56 with a loss of –0.43% percent or –135.99 point at 12:15 PM .