UK PRE MARKET
The FTSE 100 Futures are trading at 7,391.80 for up with +0.04% percent or +33.30 point. The CAC 40 Futures are trading at 5,144.50 for up with +0.85% percent or +43.50 point . The DAX Futures are trading at 12,329.00  for up with  +0.91% percent or +111.00 point . The EURO Stoxx 50 Futures are trading at 3,463.0 for up with  +0.82% percent or  +28.0 point.
TODAY'S FACTORS AND EVENTS
London stocks edged just a touch higher in early trade on Thursday as investors sifted through corporate news and eyed the latest rate announcement from the European Central Bank.At 0830 BST, the FTSE 100 was up 0.1% to 7,358.38.

The European Central Bank rate at 1245 BST and press conference at 1330 BST will be in focus. With rates largely expected to remain on hold, attention will be on what ECB chief Mario Draghi has to say.

Accendo Markets said: "While many had been hoping that this meeting would provide more clarity on a firm date for the ECB to begin the long awaited tapering of its quantitative easing programme, the overwhelming strength of the Euro in recent months could now delay the decision.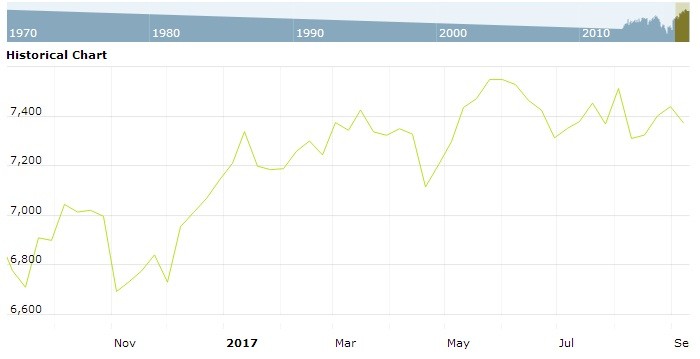 For the day the FTSE 100 closed at 7,391.86 for up with  +0.51%percent or +37.73 point. France's CAC 40 closed at 5,145.09 for up with  +0.86% percent or  +43.69 point. Germany's DAX closed at 12,331.26 for up with +0.96% percent or  +116.72 point.
WORLD MARKETS
For the day the Dow are trading at 21,807.64 for up with  +0.25% percent or +54.33 point. The S&P 500 are trading at 2,465.54  for up with  +0.31% percent or +7.69 point. The Nasdaq Composite are trading at 6,393.31  for up with  +0.28% percent or +17.74 point.
In other parts of world, Japan's Nikkei 225 are trading at 19,396.52 for up with +0.20% percent or +38.55 point. Hong Kong's Hang Seng are trading at 27,522.92 with a loss of –0.33% percent or –90.84 point. China's Shanghai Composite are trading at 3,365.50  with a loss of  –0.59% percent or –19.89point. India's S&P BSE Sensex are trading at 31,662.74 with 0.00% percent or 0.77  point at 12:15 PM .