UK PRE MARKET
The FTSE 100 Futures are trading at 7,346.50 for up with +0.38% percent or +28.00 point. The CAC 40 Futures are trading at 5,104.50 for up with  +0.40% percent or +20.50 point . The DAX Futures are trading at 12,126.80 for up with +0.14% percent or +17.30 point . The EURO Stoxx 50 Futures are trading at 3,453.0 for up with +0.15% percent or +6.0 point.
TODAY'S FACTORS AND EVENTS
London stocks were holding onto gains by the close, underpinned by a strong showing in the mining sector and well-received earnings from HSBC.
The FTSE 100 was up 0.05% or 3.63 points to 7,372.00, while the pound was up 0.40% against the dollar at 1.3175 and 0.1% lower versus the euro at 1.1183.
In parallel, the second-tier index was ahead by 0.27% or 52.95 points at 19,781.14.
The gains came despite missile launches from North Korea and growing tensions between the US and Russia.
On Friday, North Korea tested a second intercontinental ballistic missile, claiming it proved that the whole of the US was within striking range. This came three weeks after its first ICBM test.
PREVIOUS DAY ACTIVITY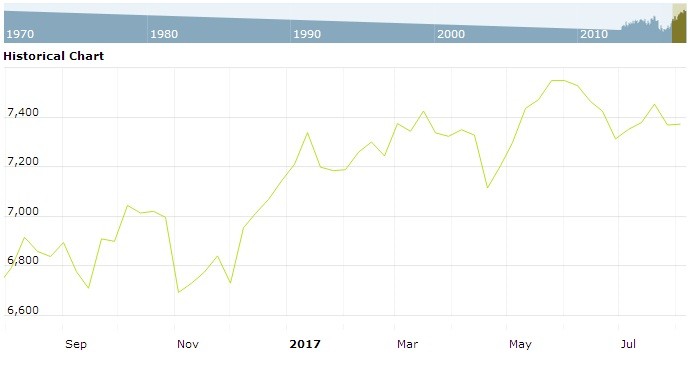 For the day the FTSE 100 closed at 7,372.00 for up with +0.05% percent or +3.63 point. France's CAC 40 closed at 5,093.77 with a loss of –0.73% percent or – 37.62 point. Germany's DAX closed at 12,118.25 with a loss of –0.37% percent or –44.45 point.
WORLD MARKETS
For the day the Dow are trading at 21,891.12 for up with +0.28% percent or +60.81 point. The S&P 500 are trading at 2,470.30 with a loss of –0.07% percent or –1.80 point. The Nasdaq Composite are trading at 6,348.12 with a loss of –0.42% percent or –26.55 point.
In other parts of world, Japan's Nikkei 225 are trading at 19,985.79 for up with +0.30% percent or  +60.61 point. Hong Kong's Hang Seng are trading at 27,516.95 for up with +0.76% percent or +208.07 point. China's Shanghai Composite are trading at 3,288.86 for up with +0.48% percent or +15.83 point. India's S&P BSE Sensex are trading at 32,531.21 with a loss of +0.05% percent or +16.27 point at 12:15 PM .