UK PRE MARKET
The FTSE 100 Futures are trading at 7,296.00 for up with +0.09% percent or +6.20 point. The CAC 40 Futures are trading at 5,174.50 with a loss of-0.08% percent or -4.00 point . The DAX Futures are trading at 12,424.00 with a loss -0.12% percent or -14.80 point . The EURO Stoxx 50 Futures are trading at 3,469.00 with a loss of -0.03% percent or -1.00 point.
TODAY'S FACTORS AND EVENTS
The FTSE drifted to a less-than compelling finish on Wednesday with US markets closed for the Independence Day holiday.
Shares in Worldpay rocketed on news it had been approacheed by US-based payment processing and technology provider Vantiv Inc and JPMorgan Chase Bank over a potential acquisition.
The FTSE 100 closed down 0.27% to 7,357.23, and the FTSE 250 ended 0.10% lower to 19,301.47. Key stocks indices in Europe were suffering from malaise, too.
Geopolitical tensions were in focus after North Korea alleged it had successfully test-launched a long-range intercontinental ballistic missile, which could potentially reach the US.
PREVIOUS DAY ACTIVITY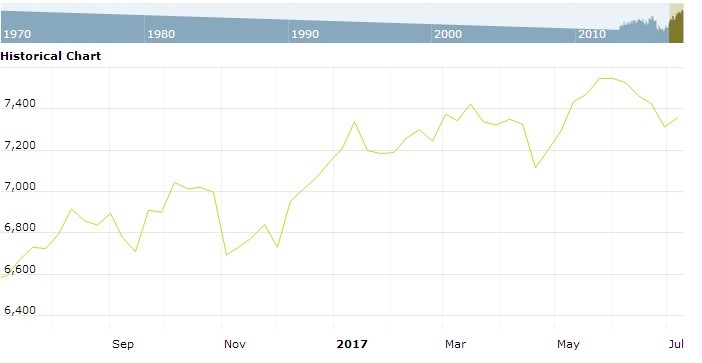 For the day the FTSE 100 closed at 7,357.23 with a loss of –0.27% percent or –19.86 point. France's CAC 40 closed at 5,174.90 with a loss of  –0.40% percent or –20.82 point. Germany's DAX closed at 12,437.13 with a loss of –0.31% percent or –38.18 point.
WORLD MARKETS
For the day the Dow are trading at 21,479.27 for up with +0.61% percent or +129.64 point. The S&P 500 are trading at 2,429.01 for up with +0.23% percent or +5.60 point. The Nasdaq Composite are trading at 6,110.06 with a loss of –0.49% percent or –30.36 point .
In other parts of world, Japan's Nikkei 225 are trading at 20,081.63 for up with  +0.25% percent or +49.28 point. Hong Kong's Hang Seng are trading at 25,491.23 for up with  +0.40% percent or  +102.22 point. China's Shanghai Composite are trading at 3,204.61 for up with  +0.69% percent or  +21.81 point. India's S&P BSE Sensex are trading at 31,213.01 for up with  0.01% percent or +3.22 point at 12:15 PM .