UK PRE MARKET
The FTSE 100 Futures are trading at 7,301.20 for up with +0.06% percent or +4.70 point. The CAC 40 Futures are trading at 5,181.80 for up with -0.18% percent or -9.20 point . The DAX Futures are trading at 12,427.30  with a loss -0.36% percent or -45.20 point . The EURO Stoxx 50 Futures are trading at 3,474.0 with a loss of -0.23% percent or -8.0 point.
TODAY'S FACTORS AND EVENTS
London stocks fell in early trade, taking their cue from a downbeat session Asia after North Korea fired a missile into Japanese waters.
At 0825 BST, the 100 was down 0.4% to 7,345.41, while the pound was flat against the dollar and the euro at 1.2945 and 1.1393, respectively. US markets will be closed for Independence Day, so volumes may be lighter than usual.
Geopolitical tensions were in focus as North Korea said it has successfully test-launched a long-range intercontinental ballistic missile, which the country claimed could potentially reach anywhere in the world.
Meanwhile, investors in the UK were looking ahead to the release of the construction purchasing managers' index at 0930 BST.
Spreadex analyst Connor Campbell said: "Following on from Monday's manufacturing figure – which, though disappointing, did leave the UK with a solid average over the quarter as a whole – the construction PMI is set to fall month-on-month, from 56.0 to 55.0. The construction data is arguably the least important of the week's 3 PMIs, especially compared to Wednesday's services reading. Nevertheless a significant drop, like the one expected, could well nudge sterling into the red."
PREVIOUS DAY ACTIVITY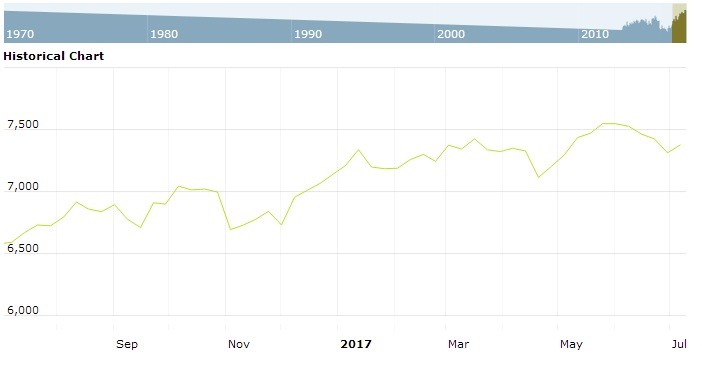 For the day the FTSE 100 closed at 7364.67  with a loss of  -0.17% percent or -12.42 point. France's CAC 40 closed at 5,181.50  with a loss of -0.27% percent or -14.22 point. Germany's DAX closed at 12,438.00  with a loss of -0.28% percent or -33.51  point.
WORLD MARKETS
For the day the Dow are trading at 21,479.27 for up with +0.61% percent or +129.64 point. The S&P 500 are trading at 2,429.01 for up with +0.23% percent or +5.60 point. The Nasdaq Composite are trading at 6,110.06 with a loss of -0.49% percent or -30.36 point .
In other parts of world, Japan's Nikkei 225 are trading at 20,032.35  with a loss of -0.12% percent or -23.45 point. Hong Kong's Hang Seng are trading at 25,389.01 with a loss of -1.53% percent or -395.16 point. China's Shanghai Composite are trading at 3,182.80 with a loss of -0.41% percent or -13.11 point. India's S&P BSE Sensex are trading at 31209.79 with a loss of -0.04% percent or -11.83 point at 12:26 PM .