UK PRE MARKET
The FTSE 100 Futures are trading at 7,372.50 for up with +0.39% percent or +29.00 point. The CAC 40 Futures are trading at 5,239.80 with a loss of -0.27% percent or -14.20 point . The DAX Futures are trading at 12,602.20 with a loss of -0.48% percent or -61.30 point . The EURO Stoxx 50 Futures are trading at 3,513.00 with a loss of -0.48% percent or -17.00 point.
TODAY'S FACTORS AND EVENTS
London stocks fell in early trade as investors sifted through corporate news and the latest survey on UK house prices.
At 0835 BST, the FTSE 100 was down 0.5% to 7,399.45, while the pound was off 0.3% against the euro at 1.1272 and flat against the dollar at 1.2819 as Bank of England deputy governor Jon Cunliffe said now is not the right time to raise interest rates.
Spreadex analyst Connor Campbell said: "Though this may have pushed sterling to a fresh seven and a half month low against the euro, cable is still sitting pretty above $1.28 after Donald Trump's domestic agenda was dealt another blow with the latest delay to the Senate healthcare vote on Tuesday night."
Meanwhile, oil prices fell after the latest report from the American Petroleum Institute showed US crude inventories rose by 851,000 barrels last week versus expectations for a 3.3 barrel drop. West Texas Intermediate was down 0.9% to $43.86 a barrel and Brent crude was off 0.7% to $46.34
PREVIOUS DAY ACTIVITY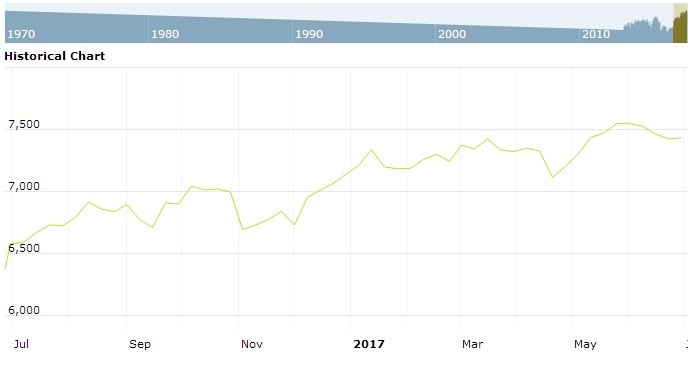 For the day the FTSE 100 closed at 7,435.70 for up with +0.02% percent or +1.34 point. France's CAC 40 closed at 5,242.51 with a loss of   -0.31% percent or –16.37 point. Germany's DAX closed at 12,605.13  with a loss of  –0.52% percent or –65.89 point.
WORLD MARKETS
For the day the Dow are trading at 21,310.66  with  a loss of  –0.46% percent or –98.89 point. The S&P 500 are trading at 2,419.38 with a loss of-0.81% percent or –19.69 point. The Nasdaq Composite are trading at 6,146.62 with a loss of –1.61% percent or –100.53 point .
In other parts of world, Japan's Nikkei 225 are trading at 20,130.41 with a loss of -0.47% percent or –94.68 point. Hong Kong's Hang Seng are trading at 25,683.50 with a loss of –0.61% percent or –156.49 point. China's Shanghai Composite are trading at 3,173.20  with a loss of  –0.56% percent or –18.00 point. India's S&P BSE Sensex are trading at 30,834.32 with a loss of –0.40% percent or –123.93 point at 12:26 PM .