UK PRE MARKET
The FTSE 100 Futures are trading at 7,383.2 with a loss of -0.14% percent or -9.7 point. The CAC 40 Futures are trading at 5,286.0 with a loss of -0.09% percent or -5.5 point . The DAX Futures are trading at 12,745.00  with  a loss of -0.16% percent or -19.90 point . The EURO Stoxx 50 Futures are trading at 3,548.0  with a loss of  -0.20% percent or  -7.0 point.
TODAY'S FACTORS AND EVENTS
European equities finished the session in the black – but off their best levels of the day – with investors choosing to focus on the reduced immediate threat to Italy's banking system after Rome stepped in to wind-down two ailing lenders at the weekend.
By the close, the benchmark Stoxx 600 was ahead by 0.37% or 1.43 points to 389.05, alongside gains of 0.29% or 37.42 points in Germany's Dax to 12,770.83 and a rise of 0.56% or 29.63 points in the French Cac to 5,295.75.
On the back of the Italian news, the Stoxx 600's gauge of lenders' shares fared better, ending the day 0.95% higher at 179.39 and nearer to its best levels of the session at 181.
Intesa San Paolo made off with the good assets of Banca Popolare di Vicenza and Veneto Banca after receiving €5.2bn in fresh funding and guarantees from Rome, with officials having offered to provide up to €12bn in further guarantees if needed to cover bad loan losses at the two banks.
PREVIOUS DAY ACTIVITY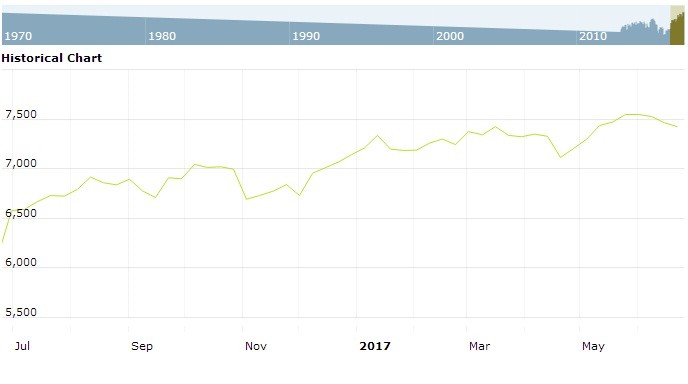 For the day the FTSE 100 closed at 7,446.80 for up with +0.31% percent or +22.67 point. France's CAC 40 closed at 5,295.75  for up with +0.56% percent or +29.63 point. Germany's DAX closed at 12,770.83 for up with +0.29% percent or +37.42 point.
WORLD MARKETS
For the day the Dow are trading at 21,409.55 for up with +0.07% percent or +14.79 point. The S&P 500 are trading at 2,439.07 for up with +0.03% percent or +0.77 point. The Nasdaq Composite are trading at 6,247.15  with a loss of –0.29% percent or –18.10 point .
In other parts of world, Japan's Nikkei 225 are trading at 20,225.09 for up with +0.36% percent or +71.74 point. Hong Kong's Hang Seng are trading at 25,836.69  with a loss of –0.14% percent or  –35.2point. China's Shanghai Composite are trading at 3,188.92 for up with +0.11% percent or +3.48 point. India's S&P BSE Sensex are trading at  31,006.08 with a loss of –0.42% percent or –131.97 point at 12:26 PM .