UK PRE MARKET
The FTSE 100 Futures are trading at 7,407.20 for up with  +0.49% percent or +36.20 point. The CAC 40 Futures are trading at 5,244.50 for up with  +0.70% percent or +36.50 point . The DAX Futures are trading at 12,723.80 for up with  +0.29% percent or +36.80 point . The EURO Stoxx 50 Futures are trading at 3,528.0 for up with  +0.23% percent or   +8.0 point.
TODAY'S FACTORS AND EVENTS
London stocks edged higher in early trade on Friday, recovering some ground after a more hawkish stance than expected from the Bank of England lifted the pound.
At 0830 BST, the FTSE 100 was up 0.4% to 7,448.34, while the pound was flat against the euro at 1.1448 and 0.1% firmer versus the dollar at 1.2770.
Although on Thursday the BoE stood pat on interest rates at 0.25%, as forecast, the vote revealed a 5-3 split versus the previous and expected 7-1 split, catching investors off guard.
Spreadex analyst Connor Campbell said: "After a bout of bearishness on Thursday the markets seem to be in a better mood this morning, aided by a bailout breakthrough between Greece and the Eurogroup.
"Having struck one month lows following the Bank of England's split rate vote the FTSE is trying to recover some of that lost ground."
PREVIOUS DAY ACTIVITY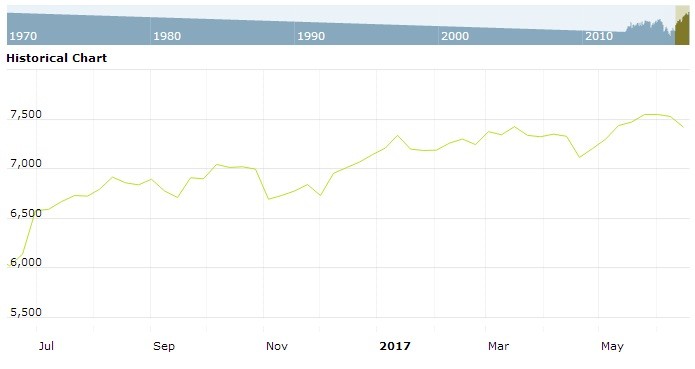 For the day the FTSE 100 closed at 7,468.58 for up  with  +0.66% percent or 49.22 point. France's CAC 40 closed at 5,255.21 for up with  +0.73% percent or +38.33 point. Germany's DAX closed at 12,732.77 for up with +0.32% percent or +40.96 point.
WORLD MARKETS
For the day the Dow are trading at 21,359.90 with a loss of –0.07% percent or –14.66 point. The S&P 500 are trading at 2,432.46 with a loss of –0.22% percent or –5.46 point. The Nasdaq Composite are trading at 6,165.50 with a loss of –0.47% percent or –29.39 point .
In other parts of world, Japan's Nikkei 225 are trading at 19,943.26 for up with  +0.56% percent or +111.44 point. Hong Kong's Hang Seng are trading at 25,626.49 for up with  +0.24% percent or +61.15 point. China's Shanghai Composite are trading at 3,123.17 with a loss of –0.30% percent or – 9.32 point. India's S&P BSE Sensex are trading at 31,056.40 with a loss of –0.06% percent or –19.33 point as on 12:16 PM .