UK PRE MARKET
The FTSE 100 Futures are trading at 7,450.80 with a loss of -0.09% percent or -6.70 point. The CAC 40 Futures are trading at 5,253.50 for up with  +0.42% percent or +22.00 point . The DAX Futures are trading at 12,752.00 for up with +0.37% percent or +47.50 point . The EURO Stoxx 50 Futures are trading at 3,547.0 for up with  +0.31% percent or  +11.0 point.
TODAY'S FACTORS AND EVENTS
London stocks were set for a positive open on Tuesday, shrugging off another downbeat session in the US which saw technology shares hit again, as investors eyed the release of key inflation data, with politics still firmly in focus.
The FTSE 100 was expected to open 36 points higher at 7,548.
The retail price index, producer price index and consumer price index are all at 0930 BST.
CMC Markets analyst Michael Hewson said: "Having started this year at 1.8% CPI inflation hit 2.7% in April and looks set to stay at this level in the latest May numbers which are due out later this morning. Core prices have also jumped sharply since the beginning of the year from 1.6% to 2.4% in April, though we are expected to see a slight moderation in the May numbers to 2.3%.
PREVIOUS DAY ACTIVITY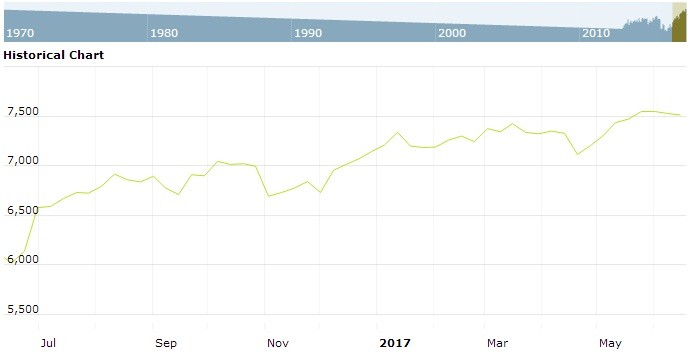 For the day the FTSE 100 closed at 7,508.89 with a loss of –0.04% percent or –2.85 point. France's CAC 40 closed at 5,264.31 for up with +0.45% percent or +23.72 point. Germany's DAX closed at 12,756.98 for up with +0.52% percent or +66.54 point.
WORLD MARKETS
For the day the Dow are trading at 21,235.67 with a loss of –0.17% percent or –36.30 point. The S&P 500 are trading at 2,429.39 with a loss of –0.10% percent or –2.38 point. The Nasdaq Composite are trading at 6,175.46 with a loss of –0.52% percent or –32.45 point .
In other parts of world, Japan's Nikkei 225 are trading at 19,898.75 with a loss of –0.05% percent or –9.83 point. Hong Kong's Hang Seng are trading at 25,852.10 for up with  +0.56% percent or +144.06 point. China's Shanghai Composite are trading at 3,153.74 for up with  +0.44% percent or +13.87 point. India's S&P BSE Sensex are trading at 31,093.93 for up  with  +0.03% percent or +7.79 point as on 12:11 PM .