UK PRE MARKET
The FTSE 100 Futures are trading at 7,430.2 with a loss of  -0.40% percent or -29.5 point. The CAC 40 Futures are trading at 5,268.5 with a loss of -0.30% percent or  -16.0 point . The DAX Futures are trading at 12,756.5 with a loss of -0.13% percent or -17.0 point . The EURO Stoxx 50 Futures are trading at 3,557.0 with a loss of  -0.36% percent or -12.5 point.
TODAY'S FACTORS AND EVENTS
European markets ended the week on a strong note amid reports that Britain's Conservatives will seek to form a coalition government, thus allowing the UK to see off the threat of new elections while allowing Brexit negotiations to commence on time, and big gains on Wall Street.
"Incoming results suggest a minority Conservative government. We expect greater political instability, with a near-term risk of a second election. Further out, we expect easier fiscal policy and a softer Brexit," Morgan Stanley's Jacob Nell said.
At the closing bell, the benchmark Stoxx 600 was up by 0.32% to 390.39, while Germany's Dax gained 0.80% to 12,815.72, alongside gains of 0.67% to 5,299.71 for the French Cac-40.
Milan's FTSE Mibtel had also recovered by the end of trading, advancing 0.38% to 21,122.42.
Over in foreign exchange markets, the single currency pared a little of its initial gains versus Sterling but was nevertheless still higher by 1.68% to 0.8801 at the close.
PREVIOUS DAY ACTIVITY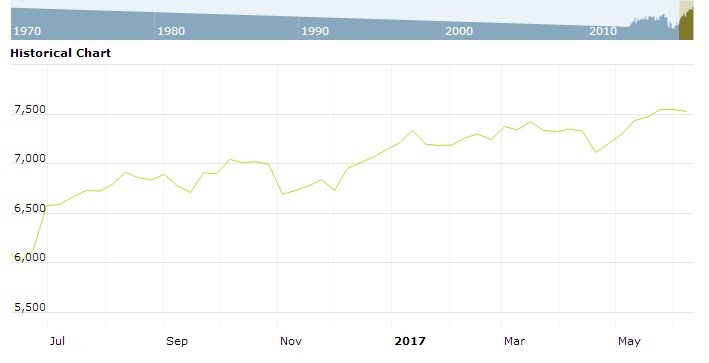 For the day the FTSE 100 closed at 7,527.33 for up with  +1.04% percent or +77.35 point. France's CAC 40 closed at 5,299.71 for up with  +0.67% percent or +35.47 point. Germany's DAX closed at 12,815.72 for up with +0.80% percent or +102.14 point.
WORLD MARKETS
For the day the Dow are trading at 21,182.53 for up with +0.42% percent or +89.44 point. The S&P 500 are trading at 2,431.77  with a loss of   –0.08% percent or –2.02 point. The Nasdaq Composite are trading at 6,207.92  with a loss  of  –1.80% percent or –113.85 point .
In other parts of world, Japan's Nikkei 225 are trading at 19,908.58 with a loss of  –0.52% percent or –104.68 point. Hong Kong's Hang Seng are trading at 25,731.31 with a loss of  –1.15% percent or –298.98 point. China's Shanghai Composite are trading at 3,143.19  with a loss of  –0.48% percent or  –15.21 point. India's S&P BSE Sensex are trading at 31,093.93 with a loss of –0.54% percent or –168.13 point as on 12:11 PM .