UK PRE MARKET
The FTSE 100 Futures are trading at 7,488.50 for up with +0.24% percent or +18.00 point. The CAC 40 Futures are trading at 5,266.50 with a loss of -0.11% percent or -6.00 point . The DAX Futures are trading at 12,709.50 with a loss of -0.19% percent or -24.50 point . The EURO Stoxx 50 Futures are trading at 3,566.0 for up  with  +0.11% percent or +3.0 point.
TODAY'S FACTORS AND EVENTS
The FTSE 100 was weaker at the close as the UK voted in the snap election called by PM Theresa May, and traders worked their way through a full platter of US and European news on so-called 'blockbuster' Thursday.
The market was keenly attuned to the European Central Bank's (ECB) policy meeting early this afternoon, and also to testimony before a Sentate committee from former FBI boss James Comey.
The ECB stood pat on rates, while the market appeared to have decided there was no smoking gun to be found in Comey's testimony about Russia's alleged involvement in the US presidential election.
PREVIOUS DAY ACTIVITY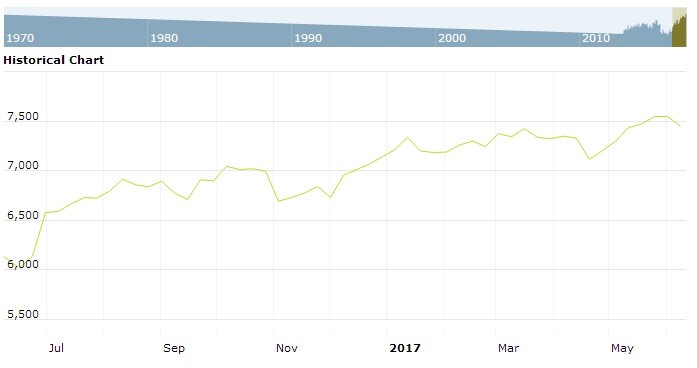 For the day the FTSE 100 closed at 7,449.98 with a loss of –0.38% percent or –28.64 point. France's CAC 40 closed at 5,264.24 with a loss of –0.02% percent or –1.29 point. Germany's DAX closed at 12,713.58 for up with +0.32% percent or  +41.09 point.
WORLD MARKETS
For the day the Dow are trading at 21,182.53 for up with  +0.04% percent or +8.84 point. The S&P 500 are trading at 2,433.79 for up with +0.03% percent or +0.65 point. The Nasdaq Composite are trading at 6,321.76 for up with a +0.39% percent or +24.38 point .
In other parts of world, Japan's Nikkei 225 are trading at 20,013.26  for up with   +0.52% percent or +104.00 point. Hong Kong's Hang Seng are trading at 25,953.46  with a loss of  –0.42% percent or –109.60 point. China's Shanghai Composite are trading at 3,159.73 for up with +0.30% percent or +9.53 point. India's S&P BSE Sensex are trading at 31,160.05 with a loss of –0.16% percent or –52.52 point as on 12:25 PM .