UK PRE MARKET
The FTSE 100 Futures are trading at 7,425.20 with a loss of  -0.07% percent . The CAC 40 Futures are trading at 5,342.50 with a loss of -0.33% percent . The DAX Futures are trading at 12,793.00 for up with 0.50 point. The EURO Stoxx 50 Futures are trading at 3,612.0 for up with +0.06% percent .
TODAY's FACTORS AND EVENTS
London stocks were set for a muted open on Tuesday after closing at a fresh record high the day before, as investors await the release of key UK inflation data.
CMC Markets analyst Michael Hewson said: "The pound is set to take centre stage with the latest CPI inflation data for April, and if what we saw in the most recent EU CPI numbers is replicated in any way shape of form we could well see a sharp rise from March's 2.3%.
"It is expected that we could get a jump to 2.6%, while core prices could also jump above the 2% level, from 1.8% to 2.2%. If we do indeed get a sharp jump in CPI then it is likely to increase the prospect of further splits on the Bank of England monetary policy committee, with Michael Saunders and Ian McCafferty the two most likely to break ranks, and push for a rise in rates."
PREVIOUS DAY ACTIVITY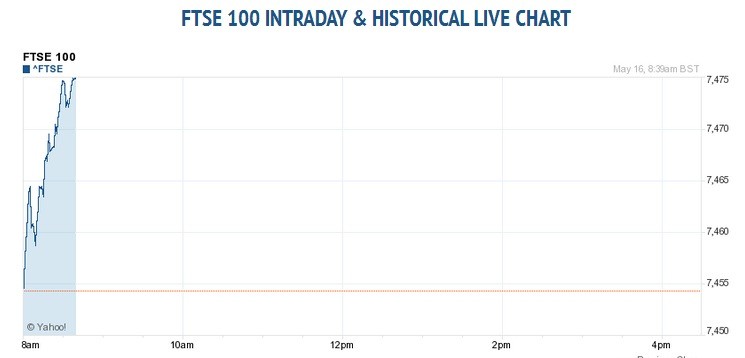 For the day the FTSE 100 closed at 7,467.63 for up with +0.18% percent. France's CAC 40 closed at 5,393.47 with a loss of 0.44% percent. Germany's DAX closed at 12,794.78 for up with  0.46% percent.
WORLD MARKETS
For the day the Dow are trading at 20,981.94 for up with +0.41% percent. The S&P 500 are trading at 2,402.32 for up with 0.48% percent. The Nasdaq Composite are trading at 6,149.67 for up with  +0.46% percent.
In other parts of world, Japan's Nikkei 225 are trading at 19,919.82 for up with  0.25% percent. Hong Kong's Hang Seng are trading at 25,341.59 with a loss of +0.12% percent. China's Shanghai Composite are trading at 3,112.96 for up with 0.74% percent. India's S&P BSE Sensex are trading at 30,465.67 for up with  00.47% percent as on 12:47 PM .