The FTSE 100 Futures is trading at 6,231.50 up with +0.44% percent or +27.50  point. The CAC 40 Futures is trading at 4,943.50 up with +0.66% percent or +32.50 point. The DAX Futures is trading at 12,324.00  up with +0.14% or +17.20 point. The EURO Stoxx 50 Futures trading at 3,240.00 with +0.78%percent or +25.00 point.
TODAY'S FACTORS AND EVENTS
Concerns around a second wave weighed on sentiment following a rise in infections in Germany, where the 'R' rate increased to 2.88 on Sunday from 1.79 the day before after an outbreak at a slaughterhouse.
In addition, consumer technology giant Apple's decision to temporarily re-close 11 stores in Florida, Arizona and the Carolinas due to rising infection rates also sparked consternation.
YESTERDAY ACTIVITY
For the day the FTSE 100 closed at 6,244.62 with a loss of –0.76% percent or ?47.98   point. France's CAC  40 closed at 4,948.70 with a loss of –0.62% percent or –30.74 point.Germany's DAX closed at 12,262.97 with a loss of  -0.55%percent or –67.79 point.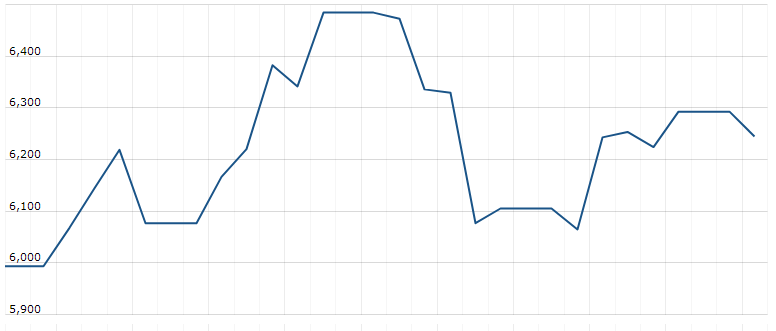 WORLD MARKETS
For the day the Dow is trading at 26,024.96 up with +0.59%percent or +153.50 point. The S&P 500 is trading at 3,117.86 up with +0.65% percent or +20.12 point. The Nasdaq Composite is trading at 10,056.48 up with +1.11% percent or +110.35  point.
In other parts of world, Japan's Nikkei 225 is trading at at 22,549.05 up with +0.50% percent or +111.78  point. Hong Kong's Hang Seng is trading at 24,762.71 up with +1.03% percent or +251.37  point. China's Shanghai  Composite is trading at 2,971.87 up with +0.22% percent or +6.60  point. India's BSE Sensex is trading at 35,141.81 up with +0.66%  percent or +230.49  point at 12:15 PM.