The FTSE 100 Futures is trading at 5,435.60  with a loss of -2.84% percent or -158.90 point. The CAC 40 Futures is trading at 4,320.50 with a loss of -2.33% percent or -103.00 point. The DAX Futures is trading at 9,607.20  with a loss of -1.74% percent or -170.30 point. The EURO Stoxx 50 Futures trading at 2,684.00  with a loss of -1.21% percent or -33.00 point.
TODAY'S FACTORS AND EVENTS
There was no let-up in the jitters on Thursday, with news overnight that the US will slap 25 per cent tariffs on French wine, Italian cheese and single-malt Scotch whisky. A closely watched measure of the UK's vast service sector also showed the first contraction in output since March.
But the most dramatic plunge of the day so far followed news that the US service sector is now at its weakest since August 2016, intensifying fears for the world's largest economy.
YESTERDAY ACTIVITY
For the day the FTSE 100 closed at 5,542.36 with a loss of  –2.58% percent or –146.66 point. France's CAC  40 closed at 4,432.30 up with 4.47% percent or +189.60 point.Germany's DAX closed at 9,874.26 up with +1.79% percent or +173.69  point.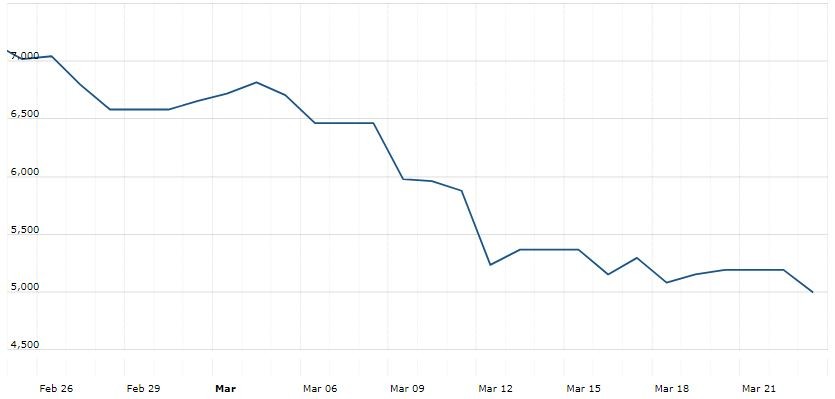 WORLD MARKETS
For the day the Dow is trading at 21,200.55 up with +2.39% percent or +495.64 point. The S&P 500 is trading at 2,475.56 up with 1.15% percent or +28.23 point. The Nasdaq Composite is trading at 7,384.30 with a loss of –0.45% percent or –33.56 point.
In other parts of world, Japan's Nikkei 225 is trading at 18,664.60 with a loss of –4.51% percent or –882.03 point. Hong Kong's Hang Seng is trading at 23,352.34  with a loss of –0.74%percent or –174.85 point. China's Shanghai  Composite is trading at 2,764.91 with a loss of –0.60% percent or –16.68 point. India's BSE Sensex is trading at 29,366.12 up with +2.91% percent or +830.34 point at 12:15 PM.