The FTSE 100 Futures is trading at 5,306.20 up with +3.71% percent or +189.70 point. The CAC 40 Futures is trading at 3,984.00 up with +2.83% percent or +109.50 point. The DAX Futures is trading at 8,976.00  up with +5.09% percent or +434.50 point. The EURO Stoxx 50 Futures trading at 2,460.00 up with +5.44% percent or +127.00 point.
TODAY'S FACTORS AND EVENTS
Stock markets across the Continent took another leg lower on Monday despite moves by several of the world's central banks to loosen policy and as G-7 leaders committed to use all tools necessary to return economic growth to its pre-coronavirus crisis level.
But investor sentiment took a big hit from news of tightening lockdowns in Spain, France and Germany, together with weak economic data out of China and concern and concern about how successful measures to contain the coronavirus would be.
YESTERDAY ACTIVITY
For the day the FTSE 100 closed at 5,151.08  with a loss of –4.01% percent or –215.03   point. France's CAC  40 closed at 3,881.46  with a loss of  –5.75% percent or –236.89 point.Germany's DAX closed at 8,742.25  with a loss of -5.31% percent or -489.83  point.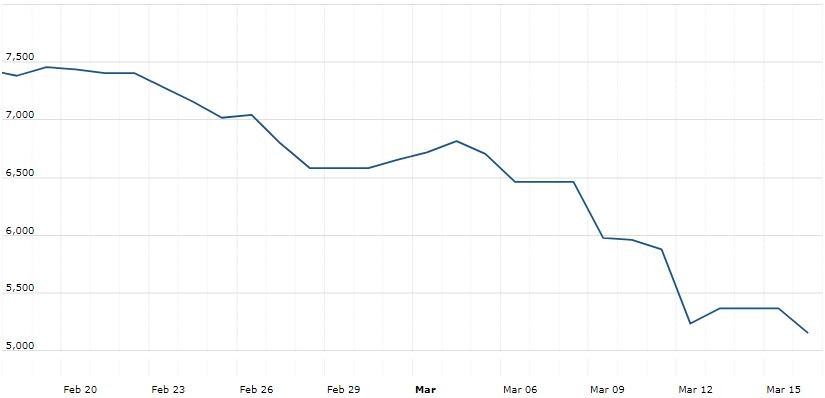 WORLD MARKETS
For the day the Dow is trading at 20,188.52   with a loss of –12.93% percent or –2,997.10  point. The S&P 500 is trading at 2,386.13 with a loss of –11.98% percent or –324.89 point. The Nasdaq Composite is trading at 6,904.59  with a loss of –12.32% percent or 970.28  point.
In other parts of world, Japan's Nikkei 225 is trading at 17,011.53  up with +0.056% percent or +9.49  point. Hong Kong's Hang Seng is trading at 23,204.68 up with +0.61% percent or +141.11    point. China's Shanghai  Composite is trading at 2,779.64 with a loss of –0.34% percent or ?9.61  point. India's BSE Sensex is trading at  31,757.08 up with +1.17% percent or +367.01  point at 12:15 PM.