The FTSE 100 Futures is trading at 6,873.50 with a loss of -0.59% percent or -40.70 point. The CAC 40 Futures is trading at 5,552.50 with a loss of -0.85% percent or -47.50 point. The DAX Futures is trading at 12,453.50  with a loss of -0.63% percent or -79.10 point. The EURO Stoxx 50 Futures trading at 3,494.00 with a loss of -0.80% percent or -28.00 point.
TODAY'S FACTORS AND EVENTS
The FTSE AIM-All Share on the other hand crumbled 2.01% to end the day at 911.16, alongside a drop of 0.64% to 1.291570 in the pound's value against the US dollar while versus the euro it lost 0.73% to 1.1865.
"The sharp declines seen on the AIM market signals a heightened risk of a UK-wide Wuhan-style coronavirus episode which could see partial shut-downs hit small and underfunded firms," said IG's Josh Mahony.
For his part, UBS strategist Keith Parker said the combination of coronavirus cases outside of China, economic data, US election primaries, past spikes in volatility and companies' guidance on earnings all pointed to "continued volatility for equities over coming weeks."
YESTERDAY ACTIVITY
For the day the FTSE 100 closed at 7,042.47  up with +0.35% percent or +24.59  point. France's CAC  40 closed at 5,684.55 up with +0.086% percent or +4.87  point.Germany's DAX closed at 12,774.88 with a loss of –0.12% percent or –15.61  point.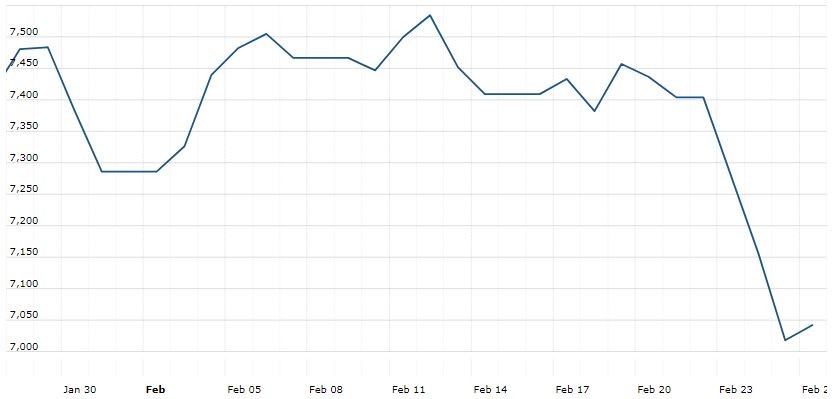 WORLD MARKETS
For the day the Dow is trading at 26,957.59 with a loss of –0.46% percent or –123.77  point. The S&P 500 is trading at 3,116.39 with a loss of –0.38% percent or –11.82 point. The Nasdaq Composite is trading at 8,980.77 up with +0.17% percent or +15.16 point.
In other parts of world, Japan's Nikkei 225 is trading at 21,948.23 with a loss of –2.13% percent or –477.96  point. Hong Kong's Hang Seng is trading at 26,734.81 up with +0.14% percent or +38.32    point. China's Shanghai Composite is trading at 2,991.33 up with 0.11% percent or +3.40  point. India's BSE Sensex is trading at  39,612.07 with a loss of –0.64% percent or –256.52 point at 12:15 PM.