The FTSE 100 Futures is trading at 7,482.80  with a loss of -0.34% percent or -25.70 point. The CAC 40 Futures is trading at 5,984.50  with a loss of -0.43% percent or -26.00 point. The DAX Futures is trading at 13,143.00  with a loss  -0.35% percent or -46.50 point. The EURO Stoxx 50 Futures trading at 3,730.00 with a loss of -0.24% percent or -9.00 point.
TODAY'S FACTORS AND EVENTS
London stocks were set for a weaker open on Wednesday after Iran retaliated against the US for the assassination last week of top Iranian general Qasem Soleimani.
The FTSE 100 was called to open 43 points lower at 7,540.
Overnight, Iran's Revolutionary Guard carried out a ballistic missile attack on air bases housing US forces in Iraq. It was unclear whether there had been any casualties after around 15 missiles launched from Iran struck two air bases in Irbil and Al Asad, west of Baghdad.
YESTERDAY ACTIVITY
For the day the FTSE 100 closed at 7,545.29  with a loss of –0.38% percent or -28.56  point. France's CAC  40 closed at 6,012.35  with a loss of –0.020% percent or -1.23 point.Germany's DAX closed at 13,226.83  up with +0.76% percent or +99.84  point.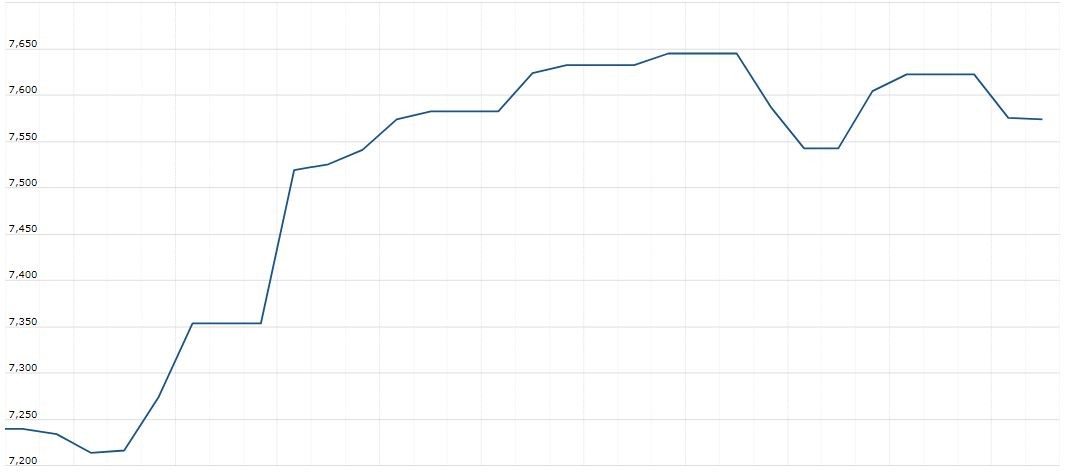 WORLD MARKETS
For the day the Dow is trading at 28,583.68  with a loss of –0.42% percent or –119.70 point. The S&P 500 is trading at 3,237.18  with a loss of –0.28% percent or -9.10 point. The Nasdaq Composite is trading at 9,068.58  with a loss of –0.032% percent or -2.88 point.
In other parts of world, Japan's Nikkei 225 is trading at 23,204.76   with a loss of –1.57% percent or -370.96  point. Hong Kong's Hang Seng is trading at 28,053.09  with a loss of -0.95% percent or –268.97point. China's Shanghai Composite is trading at 3,066.89  with a loss of –1.22% percent or –37.91  point. India's BSE Sensex is trading at 40,711.80  with a loss of –0.39% percent or –157.67 point at 12:15 PM.