The FTSE 100 Futures is trading at 7,517.80 with a loss of -0.42% percent or -31.70 point. The CAC 40 Futures is trading at 5,998.80  with a loss of  -0.62% percent or -37.20 point. The DAX Futures is trading at 13,110.00 with a loss of  -0.63% percent or -83.50 point. The EURO Stoxx 50 Futures trading at 3,734.00  with a loss of -0.53% percent or -20.00 point.
TODAY'S FACTORS AND EVENTS
The top-flight index was 0.24% higher at 7,622.40, outperforming its European peers as geopolitical tensions sent oil prices surging, boosting the likes of heavyweights BP and Shell, and as the pound fell 0.41% against the US dollar to 1.30846.
In parallel, the FTSE 250 was 0.54% lower to 21,988.19, although it did manage to finish off its worst levels of the day.
Soleimani, the head of the Iranian Revolutionary Guard's elite Quds Force, and the second most important figure in Iran, was killed overnight at Baghdad airport, in a strike ordered by US President Donald Trump. Iran's Supreme Leader, Ayatollah Ali Khamenei, vowed "severe revenge" for those behind the attack.
YESTERDAY ACTIVITY
For the day the FTSE 100 closed at 7,622.40 up with +0.24% percent or +18.10  point. France's CAC  40 closed at 6,044.16  up with 0.044% percent or +2.67  point.Germany's DAX closed at 13,219.14  with a loss of -1.25% percent or -166.79  point.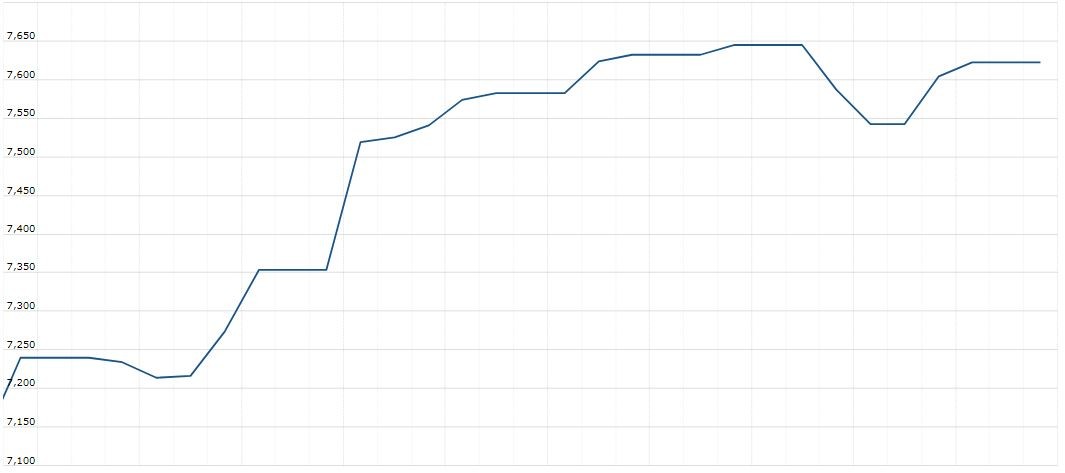 WORLD MARKETS
For the day the Dow is trading at 28,634.88   with a loss of –0.81% percent or ?233.92 point. The S&P 500 is trading at 3,234.85 with a loss of –0.71% percent or -23.00 point. The Nasdaq Composite is trading at 9,020.77 with a loss of –0.79% percent or 71.42  point.
In other parts of world, Japan's Nikkei 225 is trading at 23,204.86  with a loss of –1.91% percent or -451.76 point. Hong Kong's Hang Seng is trading at 28,167.92 with a loss of –1.00% percent or –283.58 point. China's Shanghai Composite is trading at 3,083.41  with a loss of –0.012% percent or –0.38   point. India's BSE Sensex is trading at 40,765.85 with a loss of –1.69% percent or –698.76 point at 12:15 PM.