The FTSE 100 Futures is trading at 7,169.00  with a loss of -0.23% percent or -16.80 point. The CAC 40 Futures is trading at 5,757.00 with a loss of -0.43% percent or -25.00 point. The DAX Futures is trading at 13,058.00  up with +0.06% percent or +8.30 point. The EURO Stoxx 50 Futures trading at 3,626.00  with +0.00% percent or +0.00  point.
TODAY'S FACTORS AND EVENTS
Speaking to reporters at a meeting with the head of Nato in London, Trump said he liked the idea of waiting until after the November 2020 Presidential election to nail down a trade deal with China.
Markets.com analyst Neil Wilson said: "Of course, Donald Trump's shoot-from-the-hip comments in these kind of interviews need to be taken with a dose of salt – we could just as easily see him row back on this later, as has happened countless times already. We're only ever a tweet away from saying that a deal is very close to see a rebound.
YESTERDAY ACTIVITY
For the day the FTSE 100 closed at 7,158.76 with a loss of –1.75% percent or –127.18 point. France's CAC  40 closed at 5,727.22 with a loss of –1.03% percent or –59.52 point.Germany's DAX closed at 12,989.29  with +0.19% percent or +24.61 point.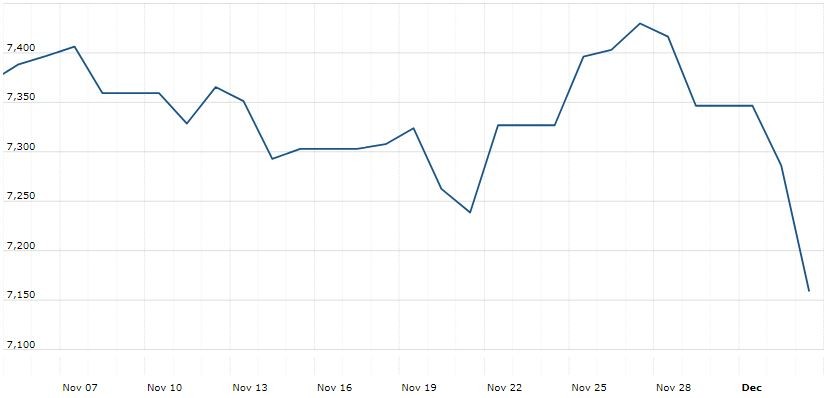 WORLD MARKETS
For the day the Dow is trading at 27,502.81 with a loss of –1.01% percent or –280.23 point. The S&P 500 is trading at 3,093.20  with a loss of –0.66% percent or –20.67 point. The Nasdaq Composite is trading at 8,520.64 with a loss of –0.55% percent or –47.34 point.
In other parts of world, Japan's Nikkei 225 is trading at 23,135.23  with a loss of –1.05% percent or –244.58 point. Hong Kong's Hang Seng is trading at 26,119.56 with a loss of –1.03% percent or –271.74 point. China's Shanghai Composite is trading at 2,877.76  with a loss of –0.26% percent or –7.53   point. India's BSE Sensex is trading at 40,601.31  with a loss of –0.18% percent or –74.14  point at 12:15 PM.