UK PRE MARKET
The FTSE 100 Futures are trading at 7,409.50 with a loss of -0.01% percent or -1.00 point. The CAC 40 Futures are trading at 5,118.50 for up with +0.15% percent or +7.50 point . The DAX Futures are trading at 12,189.00 for up with +0.07% percent or +8.00 point . The EURO Stoxx 50 Futures are trading at 3,444.0  with  a loss of  -0.03% percent or  -1.0 point.
TODAY'S FACTORS AND EVENTS
London stocks held on to small gains by the close on Thursday, helped along by a solid performance in the mining sector even as the latest reading on the UK economy confirmed sluggish growth in the second quarter.
The FTSE 100 was up 0.33% or 24.41 points at 7,407.06, with heavily-weighted miners contributed much of the gains. Rio Tinto, BHP Billiton and Antofagasta were all in the green.
European markets all closed higher, shaking off Wednesday's comments from US President Donald Trump, concerning the shutdown of the US federal government if funding was not provided to build a wall along the US southern border with Mexico.
PREVIOUS DAY ACTIVITY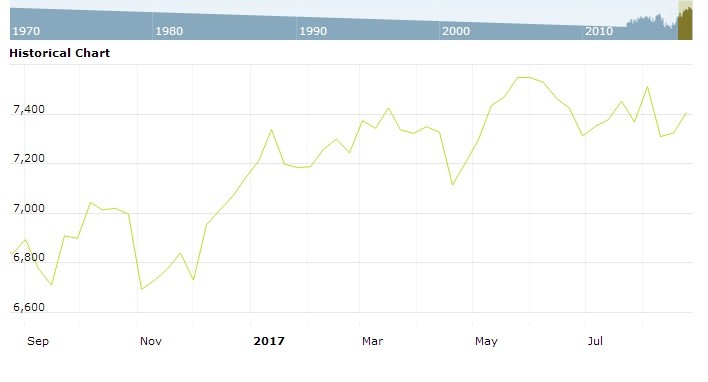 For the day the FTSE 100 closed at 7,407.06 for up with +0.33% percent or +24.41 point. France's CAC 40 closed at 5,113.13 with a loss of –0.04% percent or –2.25 point. Germany's DAX closed at 12,180.83 for up with +0.05% percent or +6.53 point.
WORLD MARKETS
For the day the Dow are trading at 21,783.40 with a loss of –0.13% percent or –28.69 point. The S&P 500 are trading at 2,438.97 with a loss of –0.21% percent or –5.07 point. The Nasdaq Composite are trading at 6,271.33 with a loss of –0.11% percent or –7.08 point.
In other parts of world, Japan's Nikkei 225 are trading at 19,452.61 for up with +0.51% percent or +98.84 point. Hong Kong's Hang Seng are trading at 27,814.53 for up with +1.08% percent or +295.93 point. China's Shanghai Composite are trading at 3,329.32 for up with +1.77% percent or +57.81 point. India's S&P BSE Sensex are trading at 31,596.06 for up with +0.09% percent or +28.05 point at 12:15 PM .