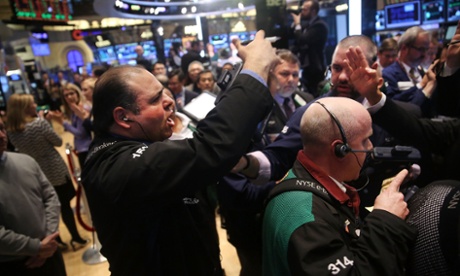 Good morning, and welcome to our rolling coverage of the financial markets, the world economy, the eurozone and business.
Many world stock markets remain pretty buoyant today, with many close to their highest levels in years, but fears over the state of the Chinese banking sector and the strength of the global economy are lingering.
Last night, the US S&P 500 ended a whisker away from its record closing high, and Australia's ASX 200 index hit its highest level in five and a half-years overnight — driven by banks and insurers — before dropping back.
In Europe, the London FTSE 100 has fallen in opening trading after hitting a 14-year closing high last night.
The blue-chip index of leading shares is down 29 point at 6836, a drop of 0.4%, pushed down by mining stocks.
This comes as City traders chatter that the Footsie could soon crash over the 7,000 point mark for the first time ever.
The news overnight that Italian PM Mattei Renzi won his confidence vote in the Italian Senate, cementing his authority as leader, has helped boost optimism.
Chris Weston of IG reckons that bullish traders have taken their cue from decent financial results, rather than fretting about what the world central banks will do:
Global earnings have been good from all parts and this has been the key input, which of course should always be the case, as over the longer-term share prices should generally follow earnings and cash flows.
With Japan's Nikkei jumping 1.4%, and the Korean market up nearly 0.9%, Asian markets were at their highest level in a month.
However, China's stock market isn't sharing the good times — the Shanghai index slid by 2% today amid concerns of a clampdown on bank lending .
The Chinese yuan was also unusually volatile today, prompting speculation that the Chinese central bank had intervened to weaken the currency. Associated Press explains:
A decline in China's tightly controlled currency prompted suggestions China's central bank might be trying to support exporters and help offset weakening domestic demand.

That came after an HSBC Corp. survey showed Chinese manufacturing activity in February tumbled to a seven-month low.

"We believe that the central bank will be accepting of some more weakness in coming days," said Credit Agricole CIB in a report.
I'll be tracking the main events through the day….