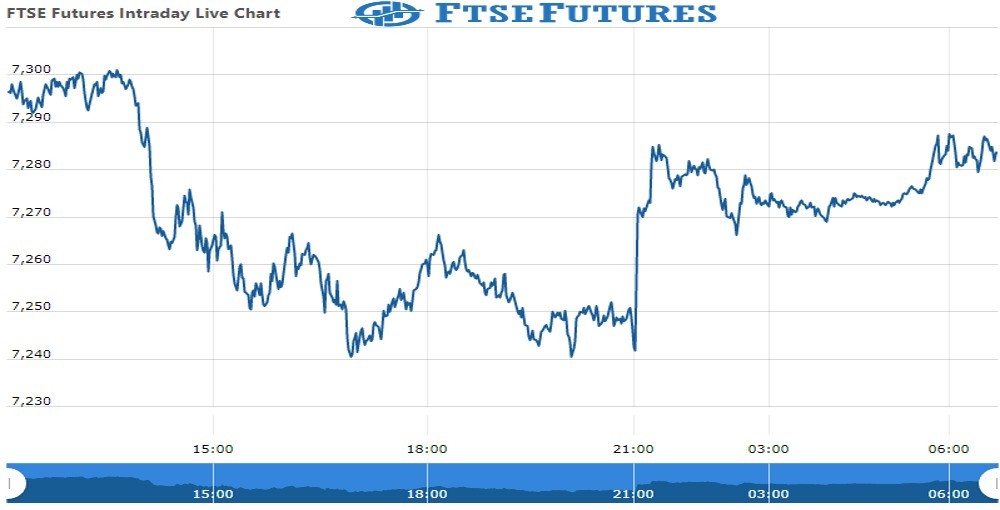 FTSE Futures Update : 27 July. 2022
The FTSE 100 Futures is trading at 7,286.00 up with +0.61% percent or +44.20 point. The CAC 40 Futures is trading at 6,176.20 with a loss of  -1.06% percent or -66.30 point. The DAX Futures is trading at 13,169.0 with +0.43% percent +56.9 point. The EURO Stoxx 50 Futures trading at 3,586.00 up with +0.65% percent or +23.00 point.
TODAY'S FACTORS AND EVENTS
London's main indices followed their Wall Street counterparts into the red by the close on Tuesday, having risen earlier after well-received updates from the likes of Compass and Unilever.
YESTERDAY ACTIVITY
For the day the FTSE 100 closed at 7,306.28 with a loss of –0.00027% percent or ?0.020  point. France's CAC 40 closed at 6,211.45 with a loss of –0.42% percent or ?26.10  point.Germany's DAX closed at 13,159.72 with a loss of –0.86% percent or ?113.39   point.
WORLD MARKETS
For the day the Dow is trading at 31,761.54 with a loss of –0.71% percent or -228.50  point. The S&P 500 is trading at 3,921.05 with a loss of –1.15% percent or -45.79  point. The Nasdaq Composite is trading at 11,562.57 with a loss of –1.87% percent or ?220.09 point.
In other parts of world, Japan's Nikkei 225 is trading at 27,712.49  up with +0.21% percent or +0.21% point. Hong Kong's Hang Seng is trading at 20,590.46 with a loss of –1.51% percent or -315.42  point. China's Shanghai Composite is trading at 3,274.37 with a loss of –0.093% percent or 0.093% point. India's BSE Sensex is trading at 55,398.45 up with +0.24% percent or +129.96 point at 12:15 PM.