The FTSE 100 Futures is trading at 5,990.80 with a loss of -0.99% percent or -59.70  point. The CAC 40 Futures is trading at 4,725.80 with a loss of -2.31% percent or -111.70 point. The DAX Futures is trading at 111,758.50  with a loss of -1.34% or -159.50 point. The EURO Stoxx 50 Futures trading at 3,066.00 with a loss of -1.54% percent or -48.00 point.
TODAY'S FACTORS AND EVENTS
London stocks fell sharply in early trade on Monday amid worries about a second wave of coronavirus infections, as non-essential shops in the UK opened their doors for the first time in nearly three months.
At 0830 BST, the FTSE 100 was down 2.2% at 5,968.35.
Oanda analyst Jeffrey Halley said: "Weekend headlines were dominated by fears of secondary outbreaks of Covid-19, especially in Beijing, where part of the city has been locked down to contain a localised outbreak. South Korea and Japan to play whack-a-mole controlling their own outbreaks, highlighting what a persistent little beast Covid-19 really is.
YESTERDAY ACTIVITY
For the day the FTSE 100 closed at 6,013.00 with a loss of –1.51% percent or –92.18  point. France's CAC  40 closed at 4,776.85 with a loss of –1.29% percent or –62.41  point.Germany's DAX closed at 11,802.66 with a loss of -1.23%percent or –146.62 point.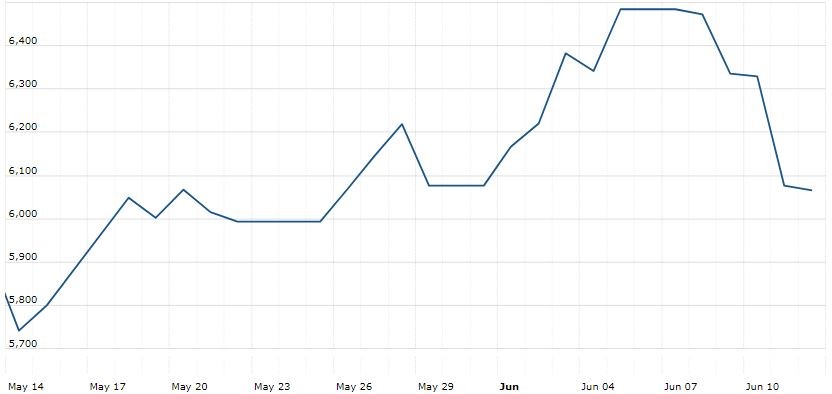 WORLD MARKETS
For the day the Dow is trading at 25,605.54 up with +1.90% percent or +477.37 point. The S&P 500 is trading at 3,041.31 with +1.31% percent or +39.21 point. The Nasdaq Composite is trading at 9,588.81 up with +1.01% percent or +96.08  point.
In other parts of world, Japan's Nikkei 225 is trading at at 21,530.95  with a loss of –3.47% percent or –774.53 point. Hong Kong's Hang Seng is trading at 23,776.95 with a loss of –2.16% percent or –524.43 point. China's Shanghai  Composite is trading at 2,890.03  with a loss of –1.02% percent or –29.71 point. India's BSE Sensex is trading at 33,274.02 with a loss of -1.50% percent or –506.87 point at 12:15 PM.