The FTSE 100 Futures is trading at 5,816.20 with a loss of -1.14% percent or -67.30  point. The CAC 40 Futures is trading at 4,277.20  with a loss of -1.54% percent or -66.80 point. The DAX Futures is trading at 10,417.20 with a loss of -1.11%or -116.90 point. The EURO Stoxx 50 Futures trading at 2,758.00 with a loss of -1.18% percent or -33.00 point.
TODAY'S FACTORS AND EVENTS
London stocks were set to drop at the open on Thursday amid ongoing concerns about a second wave of coronavirus infections.
The FTSE 100 was called to open 64 points lower at 5,840.
CMC Markets analyst David Madden said: "Stock markets in Europe and the US sold off aggressively yesterday as coronavirus-related fears hit market confidence. The increase in the rate of new Covid-19 cases in countries that have eased lockdown restrictions caused concern among traders.
YESTERDAY ACTIVITY
For the day the FTSE 100 closed at 5,828.36  with a loss of –1.28% percent or –75.69 point. France's CAC  40 closed at 4,344.95 with a loss of –2.85% percent or –127.54 point.Germany's DAX closed at 10,542.66 with a loss of -2.56% percent or –276.84 point.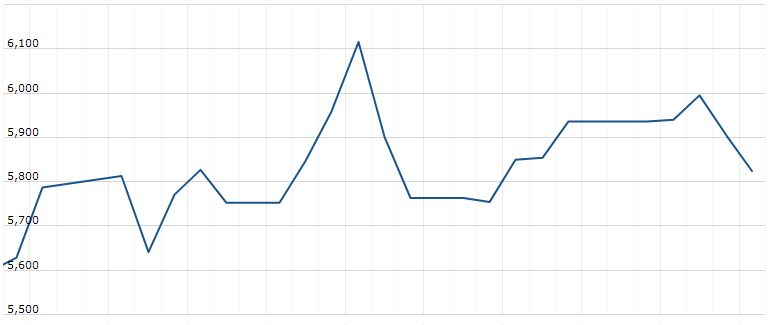 WORLD MARKETS
For the day the Dow is trading at 23,247.97 with a loss of -2.17% percent or -516.81  point. The S&P 500 is trading at 2,820.00  with a loss of –1.75% percent or -50.12 point. The Nasdaq Composite is trading at 8,863.17 with a loss of -1.55% percent or -139.38  point.
In other parts of world, Japan's Nikkei 225 is trading at 19,914.78 with a loss of –1.74% percent or –352.27 point. Hong Kong's Hang Seng is trading at 23,809.21 with a loss of –1.53%percent or –371.09  point. China's Shanghai  Composite is trading at 2,870.34  with a loss of –0.96% percent or –27.71 point. India's BSE Sensex is trading at 31,389.52 with a loss of –1.93% percent or –619.09  point at 12:15 PM.