The FTSE 100 Futures is trading at 5,924.50 with a loss of -1.07% percent or -64.00  point. The CAC 40 Futures is trading at 4,414.00  with a loss of -1.29% percent or -57.50 point. The DAX Futures is trading at 10,671.50 up with +0.76% or +80.50 point. The EURO Stoxx 50 Futures trading at 2,832.00 with a loss of -1.39% percent or -40.00 point.
TODAY'S FACTORS AND EVENTS
CMC Markets analyst David Madden said: "Countries such as China, South Korea and Germany have eased up on lockdown restrictions, which was seen as progress, but sadly the countries have seen an increase in the rate of new Covid-19 cases. The rate of new infections hasn't been huge, but it has been enough raise a few eyebrows. Governments have navigated their way through the pandemic so far, so it is likely they will be able to deal with any resurgences along the way.
YESTERDAY ACTIVITY
For the day the FTSE 100 closed at 5,936.71  with a loss of –0.97% percent or –58.06 point. France's CAC  40 closed at 4,472.50 with a loss of –0.39% percent or –17.71 point.Germany's DAX closed at 10,819.50 with a loss of -0.051% percent or –5.49 point.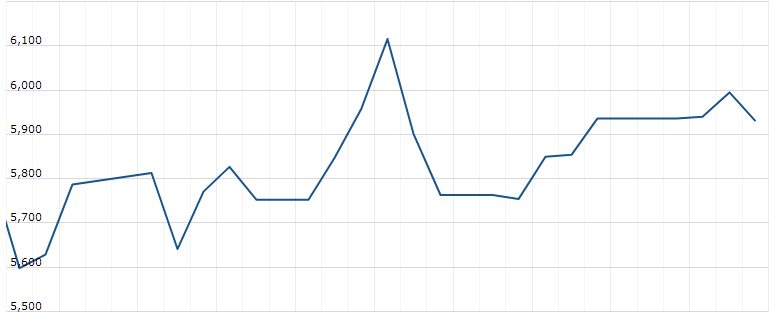 WORLD MARKETS
For the day the Dow is trading at 23,764.78  with a loss of -1.89% percent or -457.21  point. The S&P 500 is trading at 2,870.12  with a loss of –2.05% percent or -60.20 point. The Nasdaq Composite is trading at 9,002.55 with a loss of -2.06% percent or -189.79  point.
In other parts of world, Japan's Nikkei 225 is trading at 20,267.05  with a loss of –0.49% percent or –99.43 point. Hong Kong's Hang Seng is trading at 24,256.26 up with +0.044%percent or +10.58  point. China's Shanghai  Composite is trading at 2,898.05 up with +0.22% percent or +6.49 point. India's BSE Sensex is trading at 32,017.04  up with +2.06% percent or +645.92  point at 12:15 PM.