The FTSE 100 Futures is trading at 5,428.80 with a loss of -3.67% percent or -206.70 point. The CAC 40 Futures is trading at 4,238.00 with a loss of -3.57% percent or -157.00 point. The DAX Futures is trading at 9,529.00  with a loss of -2.30% percent or -224.70 point. The EURO Stoxx 50 Futures trading at 2,642.00 with  a loss of -3.82% percent or -105.00 point.
TODAY'S FACTORS AND EVENTS
 European stock markets are set to open lower Wednesday, as more survey evidence of economic damage in Asia caused by the coronavirus pandemic outweighed talk of another rescue package in the U.S.
At 2:15 AM ET (0615 GMT), the DAX futures contract in Germany traded 2.5% lower. CAC 40 futures were down 3.9%, while the FTSE 100 futures contract in the U.K. fell 4.2%.
Factory activity dropped sharply across most of Asia in March, according to the latest Purchasing Managers' Index surveys, with regional economic powerhouses Japan and South Korea, major exporters to Europe, posting their biggest contractions in about a decade.
YESTERDAY ACTIVITY
For the day the FTSE 100 closed at 5,513.32 with  a loss of –2.80% percent or –160.74 point. France's CAC  40 closed at 4,396.12 up with +0.40% percent or +17.62 point.Germany's DAX closed at 9,935.84 up with +1.22% percent or +119.87  point.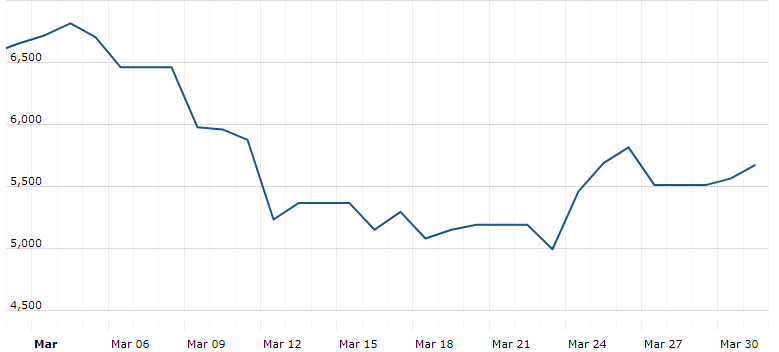 WORLD MARKETS
For the day the Dow is trading at 21,917.16 with a loss of –1.84%percent or –410.32 point. The S&P 500 is trading at 2,584.59 with a loss of –1.60% percent or –42.06 point. The Nasdaq Composite is trading at 7,700.10 with a loss of –0.95% percent or –74.05 point.
In other parts of world, Japan's Nikkei 225 is trading at 18,065.41 with a loss of –4.50% percent or –851.60 point. Hong Kong's Hang Seng is trading at 23,050.25  with a loss of  –2.34%% percent or –553.23 point. China's Shanghai  Composite is trading at 2,734.52 with a loss of –0.57% percent or –15.77 point. India's BSE Sensex is trading at 28,495.28  with a loss of  –3.30% percent or –975.68 point at 12:15 PM.