The FTSE 100 Futures is trading at 7,374.00 up with +0.47% percent or +34.50 point. The CAC 40 Futures is trading at 5,854.00 with a loss of -2.78% percent or -167.50 point. The DAX Futures is trading at 13,281.50 up with +0.67% percent or +87.80 point. The EURO Stoxx 50 Futures trading at 3,690.00 up with +0.71% percent or +26.00 point.
TODAY'S FACTORS AND EVENTS
Commenting on the 'black swan' event that was the new coronavirus, Chris Beauchamp at IG told clients: "Investors would beDip wise to anticipate further bad news on the virus, with infection tolls likely to rise, while any treatment is weeks away at the earliest."
Beauchamp continued: "John Bolton's revelations regarding the Ukraine seem to have galvanised some of Trump's Republican opponents into calling the former adviser as a witness, although such a move is a long way from actually voting for impeachment in the end. Nonetheless, it does not look like the president will have it all his own way."
YESTERDAY ACTIVITY
For the day the FTSE 100 closed at 7,412.05 with a loss of –2.29% percent or –173.93  point. France's CAC  40 closed at 5,863.02 with a loss of –2.68% percent or –161.23 point.Germany's DAX closed at 13,204.77 with a loss of  –2.74% percent or –371.91  point.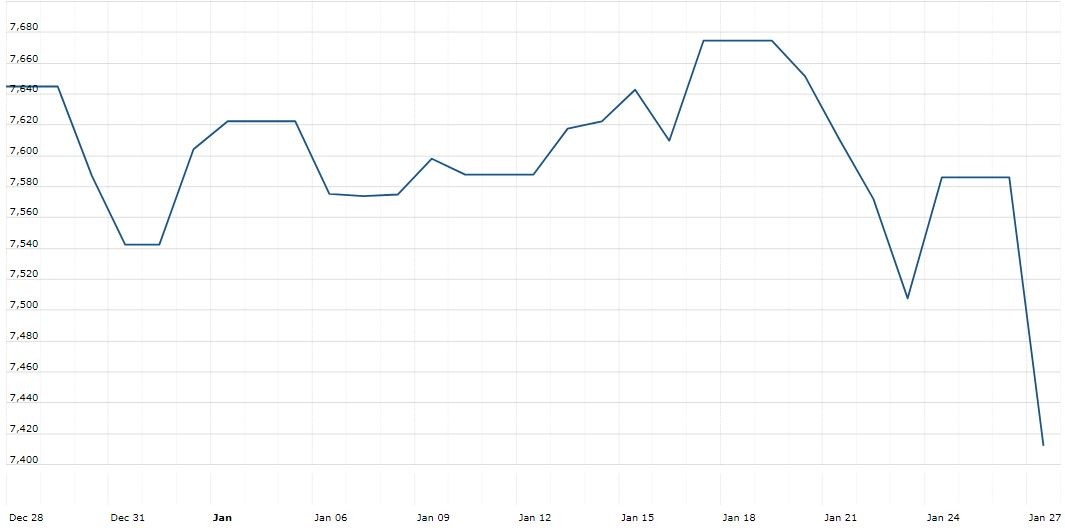 WORLD MARKETS
For the day the Dow is trading at 28,535.80 with a loss of –1.57% percent or –453.93  point. The S&P 500 is trading at 3,243.63  with a loss of –1.57% percent or -51.84 point. The Nasdaq Composite is trading at 9,139.31 with a loss of –1.89% percent or –175.60 point.
In other parts of world, Japan's Nikkei 225 is trading at 23,215.71 with a loss of –0.55% percent or –127.80   point. Hong Kong's Hang Seng is trading at 27,949.64 up with +0.15% percent or +40.52  point. China's Shanghai Composite is trading at 2,976.53 with a loss of –2.75% percent or –84.23 point. India's BSE Sensex is trading at 41,231.86 up with +0.19% percent or +76.74 point at 12:15 PM.