The FTSE 100 Futures is trading at  7,511.20  up with +0.30% percent or +22.20 point. The CAC 40 Futures is trading at 5,972.50  with  a loss of –0.03% percent or -1.50 point. The DAX Futures is trading at 13,222.20  up with +0.78% percent or +101.90 point. The EURO Stoxx 50 Futures trading at 3,750.00  up with +0.70% percent or +26.00 point.
TODAY'S FACTORS AND EVENTS
"It has been a year for rallies in equities, even for the FTSE 100, which is up about 12% in price terms from New Year's Eve 2018. Compared to the S&P 500 or the Dax, this is fairly unimpressive, but is unsurprising given the tough macro outlook not just for the UK but for the broader global economy. We endured plenty of Brexit and trade war headlines in 2019, but these will go with us into next year, ensuring more volatility for traders and investors," said IG's Chris Beauchamp.
YESTERDAY ACTIVITY
For the day the FTSE 100 closed at 7,542.44  with a loss of –0.59% percent or -44.61 point. France's CAC  40 closed at 5,978.06  with a loss of –0.069% percent or -4.15  point.Germany's DAX closed at 13,249.01  with a loss of –0.66% percent or –88.10  point.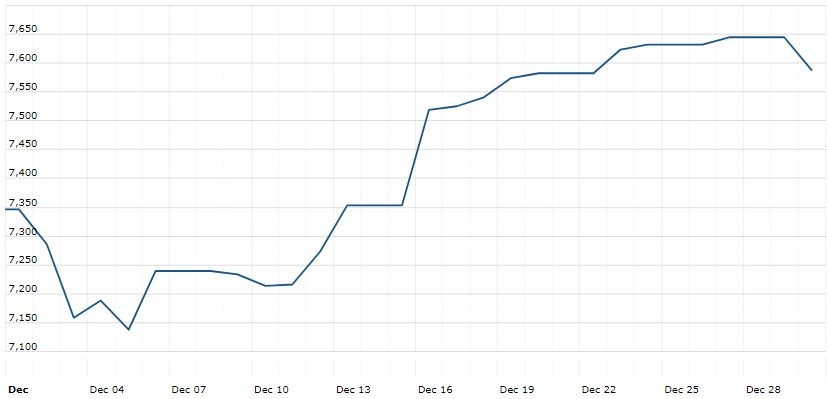 WORLD MARKETS
For the day the Dow is trading at 28,538.44  with a loss of –0.37% percent or –106.82 point. The S&P 500 is trading at 3,230.78 up with +0.29% percent or +9.49 point. The Nasdaq Composite is trading at 8,972.60  up with +0.30% percent or +26.61  point.
In other parts of world, Japan's Nikkei 225 is trading at 23,656.62  with a loss of –0.76% percent or -181.10 point. Hong Kong's Hang Seng is trading at 28,502.44 up with 1.11% percent or +312.69 point. China's Shanghai Composite is trading at 3,086.10  up with +1.18% percent or +35.98   point. India's BSE Sensex is trading at 41,520.30 up with +0.52% percent or +214.28 point at 12:15 PM.