The FTSE 100 Futures is trading at 7,459.50 up with +0.04% percent or +2.70 point. The CAC 40 Futures is trading at 5,962.50  with a loss of -0.48% percent or -29.00 point. The DAX Futures is trading at 13,262.50  with a loss of -0.12% percent or -16.40 point. The EURO Stoxx 50 Futures trading at 3,728.00  with a loss of -0.11% percent or -4.00 point.
TODAY'S FACTORS AND EVENTS
"For the pound, we had been looking at a potential 2020 recovery, with the prospect of a jump in business activity also providing sharp gains for UK-focused firms," said IG analyst Josh Mahony.
"However, with Johnson introducing yet another needless cliff-edge, he has dented hopes of a sentiment driven boost in economic activity which has in turn put an end to the recent recovery in UK markets."
Although it was Brexit news hogging the limelight, investors were also mulling over the latest UK jobs data from the Office for National Statistics, which showed that employment rose as employers unexpectedly hired more workers in the run-up to October's second deadline for Brexit.
YESTERDAY ACTIVITY
For the day the FTSE 100 closed at 7,525.28  up with +0.083% percent or +6.23 point. France's CAC  40 closed at 5,968.26  with a loss of –0.39% percent or -23.39 point.Germany's DAX closed at 13,287.83  with a loss of -0.89% percent or –119.83  point.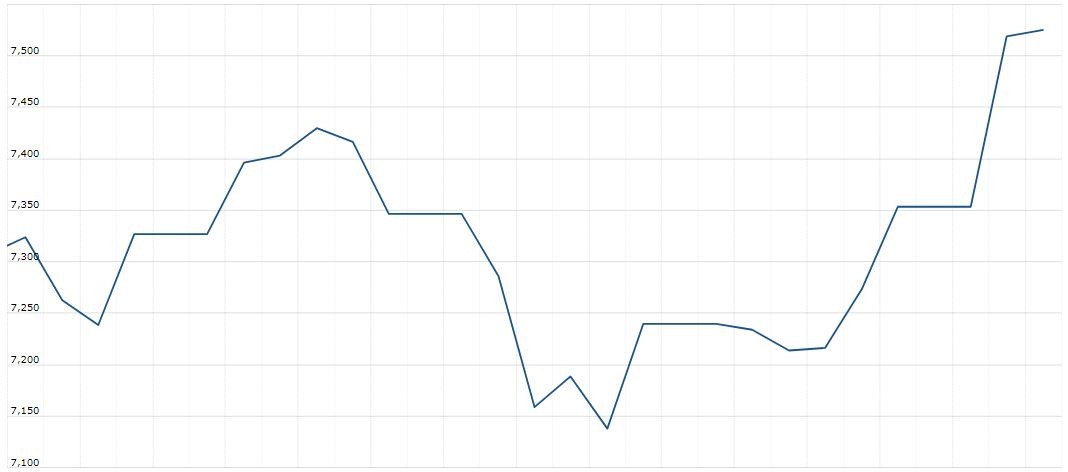 WORLD MARKETS
For the day the Dow is trading at 28,267.16 up with +0.11% percent or +31.27 point. The S&P 500 is trading at 3,192.52 up with +0.034% percent or +1.07 point. The Nasdaq Composite is trading at 8,823.36 up with +0.10% percent or +9.13  point.
In other parts of world, Japan's Nikkei 225 is trading at 23,934.43  with a loss of –0.55% percent or -131.69 point. Hong Kong's Hang Seng is trading at 27,806.16  with a loss of –0.13% percent or –37.55 point. China's Shanghai Composite is trading at 3,014.57  with a loss of –0.26% percent or –7.85 point. India's BSE Sensex is trading at 41,445.14 up with +0.22% percent or +92.97 point at 12:15 PM.