The FTSE 100 Futures is trading at 7,305.50 up with +0.17% percent or +12.50 point. The CAC 40 Futures is trading at 5,633.20 up with +0.20% percent or +11.20 point. The DAX Futures is trading at 12,348.20  with a loss of  -0.17% percent or -20.90 point. The EURO Stoxx 50 Futures trading at 3,530.00 up with ++0.11% percent or +4.00 point.
TODAY'S FACTORS AND EVENTS
London stocks were set to rise at the open on Tuesday ahead of the Supreme Court's decision on the prorogation of Parliament.
The FTSE 100 was called to open 22 points higher at 7,348.
The Supreme Court is due to announce later in the morning whether Prime Minister Boris Johnson acted unlawfully when he suspended Parliament.
CMC Markets analyst Michael Hewson said: "In what could potentially be an explosive precedent the court could rule that the decision to end the parliamentary session was an illegal act. Both English and Northern Irish courts dismissed the charge of illegal prorogation, while a Scottish court ruled it was illegal, meaning today's decision could go either way.
PREVIOUS DAY ACTIVITY
For the day the FTSE 100 closed at 7,334.69  up with +0.12% percent or +8.61 point. France's CAC  40 closed at 5,643.38  up with +0.22% percent or  +12.62 point.Germany's DAX closed at 12,362.13 up  with +0.16% percent or +19.80 point.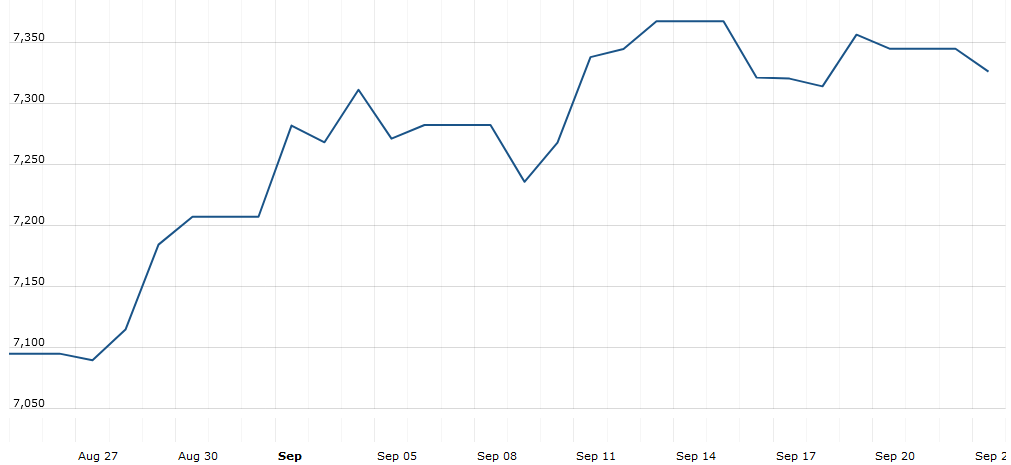 WORLD MARKETS
For the day the Dow is trading at 26,949.99 up with +0.055% percent or +14.92  point. The S&P 500 is trading at 2,991.78  with a loss of –0.0097% percent or –0.29 point. The Nasdaq Composite is trading at 8,112.46  with a loss of –0.064% percent or  –5.21 point.
In other parts of world, Japan's Nikkei 225 is trading at 22,098.84 up with +0.089% percent or +19.75 point. Hong Kong's Hang Seng is trading at 26,284.10 up with +0.24% percent or +61.70 point. China's Shanghai Composite is trading at 2,985.34 up with +0.28% percent or +8.26 point. India's BSE Sensex is trading at39,008.18 with a loss of  –0.21% percent or –81.85 point at 12:15 PM.