UK PRE MARKET
The FTSE 100 Futures are trading at 7,323.00 with a loss of –0.37% percent or -27.00 point. The CAC 40 Futures are trading at 5,207.00  for up with   +0.01%  percent or -6.5 point . The DAX Futures are trading at 12,504.30  with  a loss of -0.32% percent or -40.00 point . The EURO Stoxx 50 Futures are trading at 3,501.0  with a loss of -0.34% percent or -12.0 point.
TODAY'S FACTORS AND EVENTS
London stocks edged lower in early trade on Thursday as investors sifted through corporate news and awaited the latest policy announcement from the Bank of England.At 0830 BST, the FTSE 100 was down 0.2% to 7,368.92, while the pound was flat against the euro at 1.1114 and 0.1% firmer versus the dollar at 1.3221.Spreadex analyst Connor Campbell said: "A week of chewy UK data culminates in Thursday's Bank of England meeting, with the central bank stuck between an inflation rock and a stagnant wage growth hard place.

"Wednesday's worse than forecast average earnings index figure – which came in at just 2.1%, far lower than the 2.6% and 2.9% inflation readings in July and August respectively – likely puts the kibosh on any BoE rate hike this month. However, investors are still interested in hearing any hints as to what exactly it will take to push Mark Carney and Co to act. Along those lines, whether anyone joins Michael Saunders and Ian McCafferty on the hawkish side of the divide could be the biggest talking point coming out of the meeting, especially if that person if chief economist Andy Haldane."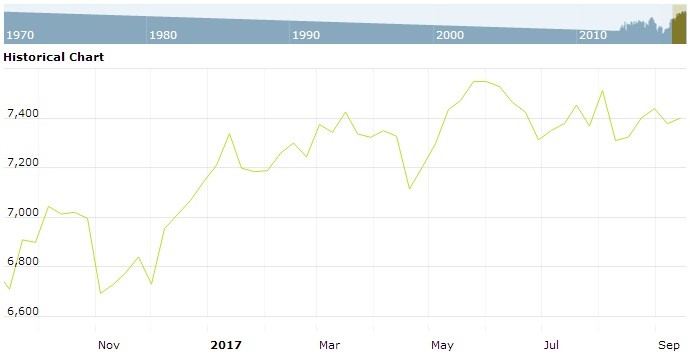 For the day the FTSE 100 closed at 7,336.08  with a loss of – 0.59% percent or –43.77 point. France's CAC 40 closed at 5,217.75  with  0.00% percent or +0.16 point. Germany's DAX closed at 12,518.08  with  a loss of  –0.29% percent or –36.00 point.
WORLD MARKETS
For the day the Dow are trading at 22,158.18  for up with  +0.18% percent or + 39.32 point. The S&P 500 are trading at 2,498.37 for up with +0.08% percent or +1.89 point. The Nasdaq Composite are trading at 6,460.19 for up with  0.09% percent or +5.91 point.
In other parts of world, Japan's Nikkei 225 are trading at 19,807.44 with a loss of –0.29% percent or  –58.38 point. Hong Kong's Hang Seng are trading at 27,777.20  with a loss of  –0.32% percent or –90.65 point. China's Shanghai Composite are trading at 3,384.15   with a loss of  –0.42%percent or –116.88 point. India's S&P BSE Sensex are trading at 32,241.93 for up with +0.17% percent or +55.52 point at 12:15 PM .