UK PRE MARKET
The FTSE 100 Futures are trading at 7,382.00 with a loss of -0.24% percent or -17.50 point. The CAC 40 Futures are trading at 5,105.00 with  a loss of -0.26% percent or -13.50 point . The DAX Futures are trading at 12,274.20 with a loss of -0.25% percent or -30.80 point . The EURO Stoxx 50 Futures are trading at 3,442.00  with a loss of  -0.32% percent or -11.00 point.
TODAY'S FACTORS AND EVENTS
Stocks ended near their best levels of the session even after European Central Bank chief Mario Draghi appeared to take the possibility of deposit rate hikes next year off the table.As expected, the ECB kept all its policy settings in place and opened the door to discussions on possibly further tapering its bond purchases when it next met, in October.

However, Draghi was emphatic that there would be no deposit facility interest rate hikes until after quantitative easing was wrapped up and according to economists that was unlikely to occur until the end of 2018 at the earliest.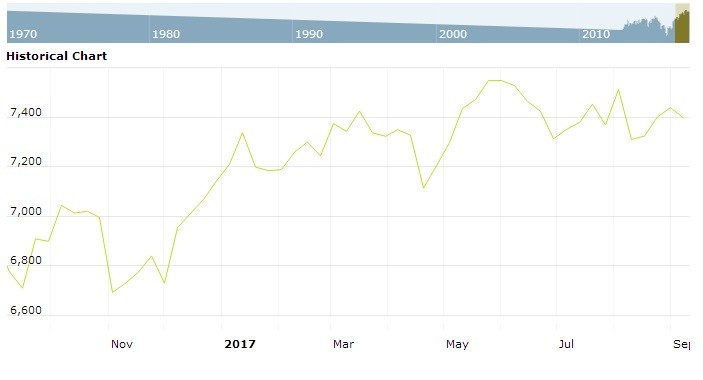 For the day the FTSE 100 closed at 7,396.98 for up with +0.58%percent or +42.85 point. France's CAC 40 closed at 5,114.62 for up with +0.26% percent or +13.22 point. Germany's DAX closed at 12,296.63 for up with +0.67% percent or +82.09 point.
WORLD MARKETS
For the day the Dow are trading at 21,784.78  with a loss of –0.10% percent or –22.86 point. The S&P 500 are trading at 2,465.10  with a loss of  –0.02% percent or –0.44 point. The Nasdaq Composite are trading at 6,397.87 for up with +0.07% percent or +4.55 point.
In other parts of world, Japan's Nikkei 225 are trading at 19,274.82 with a loss of –0.63% percent or –121.70 point. Hong Kong's Hang Seng are trading at 27,645.15 for up with  +0.44% percent or +122.23 point. China's Shanghai Composite are trading at 3,363.67 with a loss of –0.05% percent or –1.83 point. India's S&P BSE Sensex are trading at 31,713.99 for up with +0.16% percent or +51.25 point at 12:15 PM .