UK PRE MARKET
The FTSE 100 Futures are trading at 7,263.00 for up with +0.03% percent or +2.50 point. The CAC 40 Futures are trading at 5,149.50 for up with  +0.14% percent or +7.00 point . The DAX Futures are trading at 12,366.80 with  0.00% percent or -0.20 point . The EURO Stoxx 50 Futures are trading at 3,453.0 for up with  +0.03% percent or   +1.0 point.
TODAY'S FACTORS AND EVENTS
London's main stock indices ended the session lower as government bond yields continued climbing higher on expectations for tighter monetary policy around the world, although a late move higher in lenders' shares allowed them to trim earlier losses.
So although higher interest rates are good news for the likes of banks and life insurers, the same cannot be said of the rest of the market, particularly because of the resulting strength in the pound.
At the closing bell, the FTSE 100 was down 0.41% or 30.32 points at 7,337.28, while the FTSE 250 was lower by 0.42% or 82.16 to 19,369.06, with the latter giving up most of its gains from a solid previous session.
Minutes from June's meeting of Federal Reserve rate setters, which were released overnight, suggested they were readying for the great unwinding of the nation's balance sheet, despite continued disappointing inflation data, according to analysts
PREVIOUS DAY ACTIVITY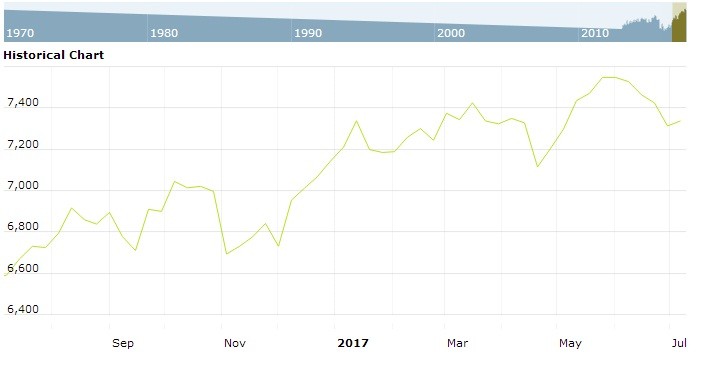 For the day the FTSE 100 closed at 7,337.28 with a loss of-0.07% percent or –8.36 point. France's CAC 40 closed at 5,152.40  with a loss of  –0.53% percent or – 27.70 point. Germany's DAX closed at 12,381.25  with a loss of -0.58% percent or –72.43 point.
WORLD MARKETS
For the day the Dow are trading at 21,320.04 with a loss of – 0.74% percent or –158.13 point. The S&P 500 are trading at 2,409.75 with a loss of 0.94% percent or –22.79 point. The Nasdaq Composite are trading at 6,089.46 with a loss of of –1.00% percent or –61.39 point .
In other parts of world, Japan's Nikkei 225 are trading at 19,929.09 with a loss of -0.32% percent or –64.97 point. Hong Kong's Hang Seng are trading at 25,384.80 with a loss of –0.30% percent or –76.20 point. China's Shanghai Composite are trading at 3,217.96 for up with +0.17% percent or +5.51 point. India's S&P BSE Sensex are trading at 31,325.32 with a loss of –0.14% percent or  –44.02 point at 12:15 PM .