UK PRE MARKET
The FTSE 100 Futures are trading at 7,412.80 for up with +0.64% percent or +47.30 point. The CAC 40 Futures are trading at 5,317.50 for up with  +1.06% percent or +56.00 point . The DAX Futures are trading at 12,826.80 for up with +0.80% percent or +101.30 point . The EURO Stoxx 50 Futures are trading at 3,570.0 for up with  +1.02% percent or +36.0 point.
TODAY'S FACTORS AND EVENTS
London stocks edged higher in early trade on Monday, with energy shares in the black as oil prices rose.
At 0830 BST, the FTSE 100 was up 0.4% to 7,456.55, while the pound was up 0.2% against the euro at 1.1389 and 0.3% firmer versus the dollar at 1.2754.
Investors were mulling over news that the Italian government has been forced to bail out two banks in the Venice region at a cost of £4.6bn. The good assets of Banca Popolare di Vicenza and Veneto Banca will be taken on by Intesa Sanpaolo for €1 while the bad assets will be left on the government's books, in a rescue Prime Minister Paolo Gentiloni said was to ensure "the good health of our banking system".
Italy's FTSE MIB was up 1.1% in early trade.
CMC Markets analyst Michael Hewson said: "So much for the so called new single European rule book and the much vaunted European Banking Union. It appears that there is one rule for Spanish banks, and the recent rescue of Popular Bank, and another for Italian banks.
PREVIOUS DAY ACTIVITY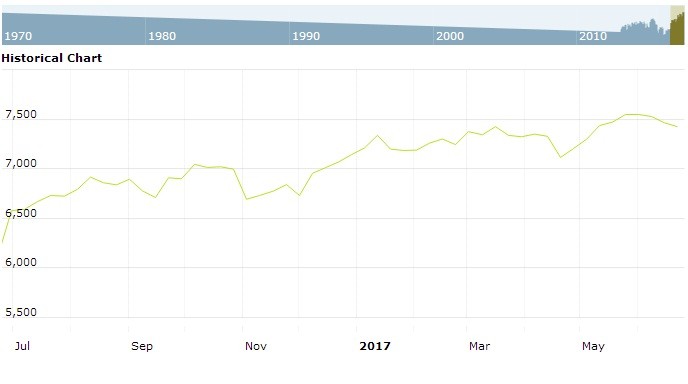 For the day the FTSE 100 closed at 7,474.17 for up with + 0.68% percent or +50.49 point. France's CAC 40 closed at 5,321.81 for up with  1.06% percent or +55.67 point. Germany's DAX closed at 12,836.63 for up with  +0.81% percent or +103.22 point.
WORLD MARKETS
For the day the Dow are trading at 21,394.76 with a loss of  –0.01% percent or –2.53 point. The S&P 500 are trading at 2,438.30 for up with  +0.16% percent or + 3.80 point. The Nasdaq Composite are trading at 6,265.25 for up with +0.46% percent or +28.56 point .
In other parts of world, Japan's Nikkei 225 are trading at 20,153.35 for up with +0.10% percent or +20.68 point. Hong Kong's Hang Seng are trading at 25,871.89 for up with  + 0.79% percent or +201.84 point. China's Shanghai Composite are trading at 3,185.44 for up with +0.87% percent or +27.57 point. India's S&P BSE Sensex are trading at 31,138.21 with a loss of –0.49% percent or –152.53 point as on friday  at 12:16 PM .