UK PRE MARKET
The FTSE 100 Futures are trading at 7,389.20 with a loss of -0.34% percent or -25.30 point. The CAC 40 Futures are trading at 5,245.0 with a loss of -0.72% percent or -38.0 point . The DAX Futures are trading at 12,742.80  with  a loss of-0.61% percent or -78.70 point . The EURO Stoxx 50 Futures are trading at  3,531.0 with a loss of -0.68% percent or -24.0 point.
TODAY'S FACTORS AND EVENTS
London stocks edged lower in early trade on Wednesday amid weaker oil prices, while UK investors awaited the Queen's Speech.
At 0830 BST, the FTSE 100 was down 0.2% to 7,459.81, while the pound was off 0.2% against the euro and the dollar at 1.1320 and 1.2605, respectively. Meanwhile, oil prices were weaker after hitting nine-month lows and entering a bear market on Tuesday. West Texas Intermediate was off 0.8% to $43.15 a barrel and Brent crude was down 1.1% at $45.54.
The Queen's Speech, which was pushed back from last week, is due at around 1130 BST. On Tuesday, Northern Ireland's Democratic Unionist Party cautioned that a deal with Prime Minister Theresa May's Conservative party was "not imminent". Reports quoted senior DUP sources as saying that talks haven't proceeded in a way that the DUP would have expected. Still, a source told the the Press Association that an agreement before Wednesday's State Opening of Parliament could not be entirely ruled out if there was movement in the talks between the parties.
PREVIOUS DAY ACTIVITY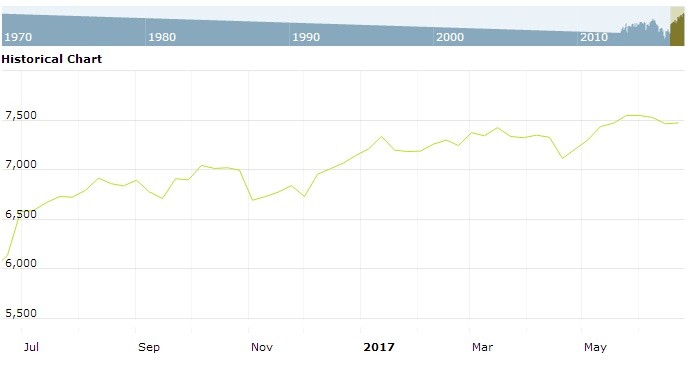 For the day the FTSE 100 closed at 7,454.08 with a loss of  –0.24% percent or –17.82 point. France's CAC 40 closed at 5,246.23 with a loss of  –0.89% percent or –47.24 point. Germany's DAX closed at 12,741.60  with a loss of  –0.57% percent or –73.19 point.
WORLD MARKETS
For the day the Dow are trading at 21,467.14  with a loss of  –0.29% percent or –61.85 point. The S&P 500 are trading at 2,437.03 with a loss of –0.67% percent or –16.43 point. The Nasdaq Composite are trading at 6,188.03 with a loss of –1.42% percent or –50.98 point .
In other parts of world, Japan's Nikkei 225 are trading at 20,138.79 with a loss of –0.45% percent or –91.62 point. Hong Kong's Hang Seng are trading at 25,694.58 with a loss of –0.57% percent or – 148.46 point. China's Shanghai Composite are trading at 3,156.21 for up with  +0.52% percent or +16.20 point. India's S&P BSE Sensex are trading at 31,283.64 with a loss of –0.04% percent or –13.89 point as on 12:16 PM .