UK PRE MARKET
The FTSE 100 Futures are trading at 7,470.0 for up with +0.13% percent or +10.5 point. The CAC 40 Futures are trading at 5,329.50 for up with +0.25% percent or +13.50 point . The DAX Futures are trading at 12,942.80 for up with +0.41% percent or +53.30 point . The EURO Stoxx 50 Futures are trading at 3,590.00 for up with +0.39% percent or +39.0 point.
TODAY'S FACTORS AND EVENTS
London stocks were set for a positive open on Tuesday, taking their cue from the US, where the Dow and S&P 500 closed at records thanks to a rebound in the technology sector.
The FTSE 100 was expected to open 10 points higher at 7,533.
There are no major UK data releases due but Bank of England governor Mark Carney will be making a speech at Mansion House at 0830 BST.
Markets participants will continue to keep a close on Brexit negotiations after the UK agreed on day one to the EU's demand for a two-phased negotiation whereby the divorce will be settled before any future trade deal can be negotiated. Brexit secretary David Davis had wanted the two strands of negotiations to be staged in parallel, but on Monday both sides agreed to set up working groups on EU citizens' rights and the size, the divorce bill and borders, but not trade. Davis had previously said that not settling both issues simultaneously would be "the row of the summer".
PREVIOUS DAY ACTIVITY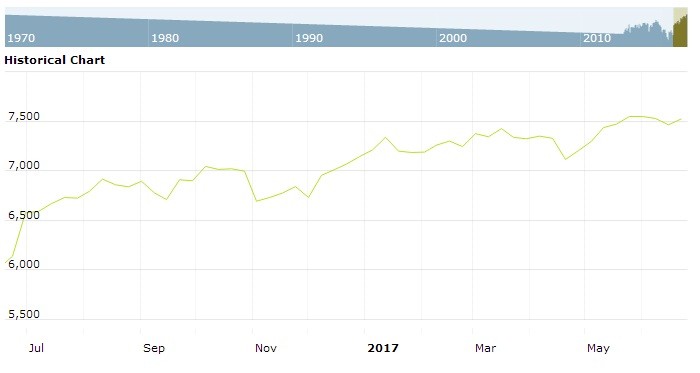 For the day the FTSE 100 closed at 7,523.81 for up with 0.81% percent or +60.27 point. France's CAC 40 closed at 5,310.72 for up with  +0.90% percent or +47.41 point. Germany's DAX closed at 12,888.95 for up with +1.07% percent or +136.22 point.
WORLD MARKETS
For the day the Dow are trading at 21,528.99 for up with + 0.68% percent or +144.71 point. The S&P 500 are trading at 2,453.46 for up with +0.83% percent or +20.31 point. The Nasdaq Composite are trading at 6,239.01 for up with +1.42% percent or +87.25 point .
In other parts of world, Japan's Nikkei 225 are trading at 20,230.41 for up with +0.81% percent or +162.66 point. Hong Kong's Hang Seng are trading at 25,863.11 with a loss of –0.24% percent or – 61.44 point. China's Shanghai Composite are trading at 3,140.01 with a loss of  –0.14% percent or –4.36 point. India's S&P BSE Sensex are trading at 31,336.13 for up with +0.08% percent or +24.56 point as on 12:16 PM .