UK PRE MARKET
The FTSE 100 Futures are trading at 7,513.80 with a loss of -0.26% percent or -19.70 point. The CAC 40 Futures are trading at 5,272.50 with a loss of -0.50% percent or -26.50 point . The DAX Futures are trading at 12,728.80  with a loss of -0.69% percent or -88.20 point . The EURO Stoxx 50 Futures are trading at 3,555.00 with a loss of -0.42% percent or -15.00 point.
TODAY'S FACTORS AND EVENTS
European stocks barreled higher as investors continued to search for yield against a backdrop of improving macro data, according to strategists, with cyclical issues like auto and parts manufacturers and chemicals pacing gains.
The benchmark Stoxx 600 ended up by 0.23% to 392.55, alongside a gain of 1.25% for Germany's Dax to 12,822.94 – a new record high – and an advance of 0.47% to 5,343.41 in the Cac-40.
European equity funds saw a 10th consecutive week of inflows, strategists at Bank of America-Merrill Lynch pointed out, referencing data from EPFR. That was the longest such stretch since December 2015.
PREVIOUS DAY ACTIVITY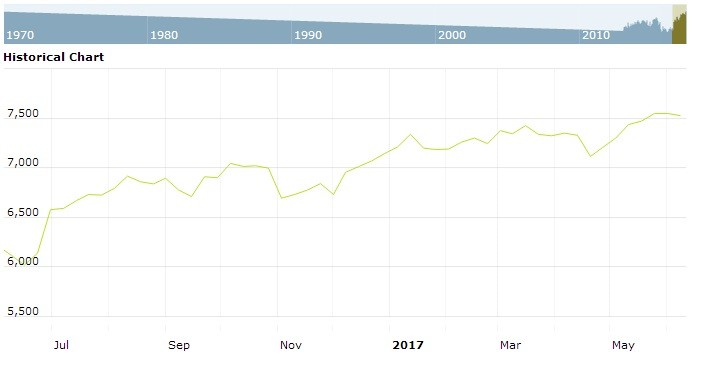 For the day the FTSE 100 closed at 7,518.92  with a loss of  –0.09% percent or –6.84 point. France's CAC 40 closed at 5,282.10  with a loss of –0.49% percent or –25.79 point. Germany's DAX closed at 12,729.95 with a loss of-0.73%    percent or -95.07 point.
WORLD MARKETS
For the day the Dow are trading at 21,184.04  with a loss of –0.10% percent or  –22.25 point. The S&P 500 are trading at 2,436.10 with a loss of  –0.12% percent or –2.97 point. The Nasdaq Composite are trading at 6,295.68 with a loss of –0.16% percent or –10.11 point .
In other parts of world, Japan's Nikkei 225 are trading at 19,979.90 with a loss of – 0.95% percent or –190.92 point. Hong Kong's Hang Seng are trading at 25,997.14  for up with  +0.52% percent or +134.15 point. China's Shanghai Composite are trading at 3,102.13 for up with +0.34% percent or +10.47 point. India's S&P BSE Sensex are trading at 31,190.56  with a loss of –0.38% percent or –118.93 point as on 12:09 PM .