UK PRE MARKET
The FTSE 100 Futures are trading at 7,480.20 for up with +0.04% percent . The CAC 40 Futures are trading at 5,277.50 for up with  +0.02% percent . The DAX Futures are trading at 12,628.30 with a loss of -0.06% percent. The EURO Stoxx 50 Futures are trading at 3,580.31  with a loss of -0.19% percent .
TODAY's FACTORS AND EVENTS
Stocks ended the session with moderately strong gains despite another move higher for the single currency aided by dovish Fedspeak.
Against that backdrop, Greece was in the spotlight at the end of the week even as the angst around the political situation in the US over the past few days appeared to have calmed down, at least for the moment.
At the closing bell, the benchmark Stoxx 600 was up by 0.60% to 391.51, alongside gains of 0.39% for Germany's Dax which was at 12,638.69 and a rise of 1.26% for the FTSE Mibtel to 21,567.52.
"Equity indices are holding their rebound gains, albeit treading water since the European open, as investors weigh up recent market moves. Whilst not electing to take on more risk before the weekend, nor are they taking any more off the table. A positive statement in many ways, given the political headwinds in play," said Mike van Dulken, Head of Research at Accendo Markets.
PREVIOUS DAY ACTIVITY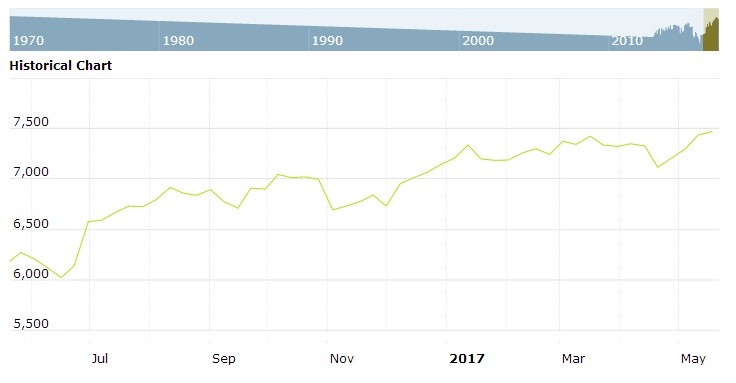 For the day the FTSE 100 closed at 7,497.84 for up with +0.36% percent. France's CAC 40 closed at 5,324.82 for up with  0.01% percent. Germany's DAX closed at 12,636.63 with a loss of –0.02% percent.
WORLD MARKETS
For the day the Dow are trading at 20,804.84 for up with  +0.69% percent. The S&P 500 are trading at 2,381.73 for up with  +0.68% percent. The Nasdaq Composite are trading at 6,083.70 for up with +0.47% percent.
In other parts of world, Japan's Nikkei 225 are trading at 19,678.28 for up with  +0.45% percent. Hong Kong's Hang Seng are trading at 25,379.16 for up with +0.81% percent. China's Shanghai Composite are trading at 3,075.68 with a loss of  –0.48% percent. India's S&P BSE Sensex are trading at 30,537.34 for up with  0.24% percent as on 01:12 PM .