UK PRE MARKET
The FTSE 100 Futures are trading at 7,284.20 with a loss of -0.11%% percent . The CAC 40 Futures are trading at 5,366.50 with a loss of  -0.13% percent . The DAX Futures are trading at 12,724.00 with a loss of -0.38% percent. The EURO Stoxx 50 Futures are trading at 3,602.0 with a loss  -0.30% percent .
TODAY's FACTORS AND EVENTS
European stocks have ended the day on the front foot despite renewed selling pressure on the euro and in crude oil futures, albeit with some traders expressing doubts about continued low levels of volatility.
"After yesterday's falls, European markets have rebounded today with a firmer tone in the more cyclical areas of the market, with an air of almost indifference starting to descend on investors, as concerns about political risk fade into the background," said Michael Hewson, chief market analyst at CMC Markets UK.
"The successful navigation around the latest in political risk appears to have prompted a significant degree of complacency with respect to hedging potential downside moves, with the VIX down at levels last seen in 1993.
PREVIOUS DAY ACTIVITY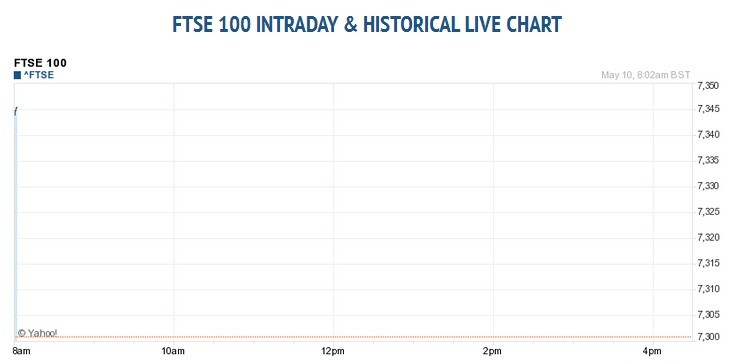 For the day the FTSE 100 closed at 7,342.21 for up with  +0.57% percent. France's CAC 40 closed at 5,398.01 for up with  +0.28% percent. Germany's DAX closed at 12,749.12 for up with +0.43% percent.
WORLD MARKETS
For the day the Dow are trading at 20,975.78 with a loss of  –0.17% percent. The S&P 500 are trading at S&P 500 with a loss of  0.10% percent. The Nasdaq Composite are trading at 6,120.59 for up with + 0.29% percent.
In other parts of world, Japan's Nikkei 225 are trading at 19,900.09 for up with  +0.29% percent. Hong Kong's Hang Seng are trading at 25,054.14 for up with +0.65%% percent. China's Shanghai Composite are trading at 3,051.75 with a loss of  –0.93% percent. India's S&P BSE Sensex are trading at 30,173.56 for up with +0.80% percent as on 12:29 PM .