UK PRE MARKET
The FTSE 100 Futures are trading at 7,259.20 with a loss of -0.16% percent . The CAC 40 Futures are trading at 5,423.50 with a loss of -0.21% percent . The DAX Futures are trading at 12,778.50 for up with +0.47% percent. The EURO Stoxx 50 Futures are trading at 3,629.0 for up with +0.42% percent .
TODAY's FACTORS AND EVENTS
European markets are expected to open higher Monday after pro-European Union candidate Emmanuel Macron secured a comfortable victory to become the next president of France.
Investors had predicted a decisive victory for Macron would be the most likely outcome, yet the absence of a Brexit-style political upset appeared to produce a collective sigh of relief on Monday. The market-friendly candidate defeated far-right rival Marine Le Pen as he took around 66 percent of the votes versus approximately 34 percent for the National Front leader.
PREVIOUS DAY ACTIVITY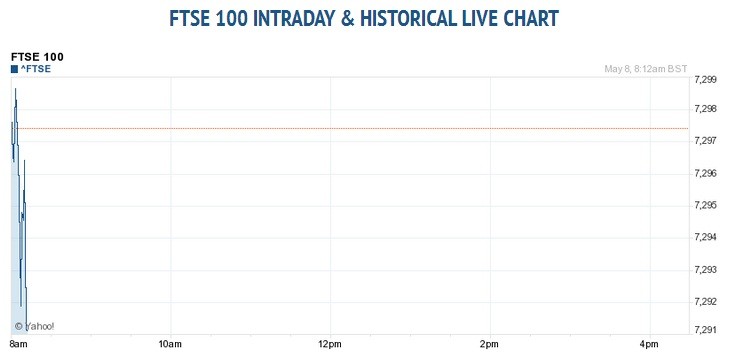 For the day the FTSE 100 closed at 7,297.43 for up with +0.68% percent. France's CAC 40 closed at 5,432.40 for up with +0.09% percent. Germany's DAX closed at 12,716.89 for up with  +0.55% percent.
WORLD MARKETS
For the day the Dow are trading at 21,006.94 for up with  +0.26% percent. The S&P 500 are trading at 2,399.29 for up with +0.41% percent. The Nasdaq Composite are trading at 6,100.76 for up with + 0.42% percent.
In other parts of world, Japan's Nikkei 225 are trading at 19,895.70 for up with +2.31% percent. Hong Kong's Hang Seng are trading at 24,547.78 for up with  +0.29% percent. China's Shanghai Composite are trading at 3,078.61 with a loss of  –0.79% percent. India's S&P BSE Sensex are trading at 29,918.58 for up  +0.20% percent as on 12:39 PM .