UK PRE MARKET
The FTSE 100 Futures are trading at 7,214.80 for up with +0.25% percent . The CAC 40 Futures are trading at 5,301.00 with a loss of  –0.06% percent . The DAX Futures are trading at 12,564.80 for up with +0.21% percent. The EURO Stoxx 50 Futures are trading at 3,586.25 for up with +0.22% percent .
TODAY's FACTORS AND EVENTS
Gains in healthcare and banks helped offset losses in miners amid stronger-than-expected economic data on both sides of the Pond and speculation of a slightly more hawkish bias from the European Central Bank and (possibly) the Federal Reserve.
BHP: Australia warned on Thursday that a push by activist investor Elliott Management to ditch global miner BHP Billiton's dual listing may be a criminal offence and could be subject to civil penalties. * ROYAL BANK: Investor advisory firm Institutional Shareholder Services has advised shareholders in Royal Bank of Scotland to vote against its remuneration.
Europe's STOXX 600 index was flat in percentage terms at its close, having spent most of the session in negative territory.
Shares in several Apple suppliers fell after the smartphone giant reported a surprise dip in sales of its flagship iPhone.
Dialog Semiconductor shares slid 2.5 percent. They had plummeted 14 percent in April on fears over Apple bringing some of its components in-house.
"Dialog has been trying to diversify for a number of years to different sources, but unfortunately if your key relationship is with Apple and that's because you have got great products, there's risk and opportunity very closely aligned in that," said Neil Campling, technology analyst at Northern Trust.
PREVIOUS DAY ACTIVITY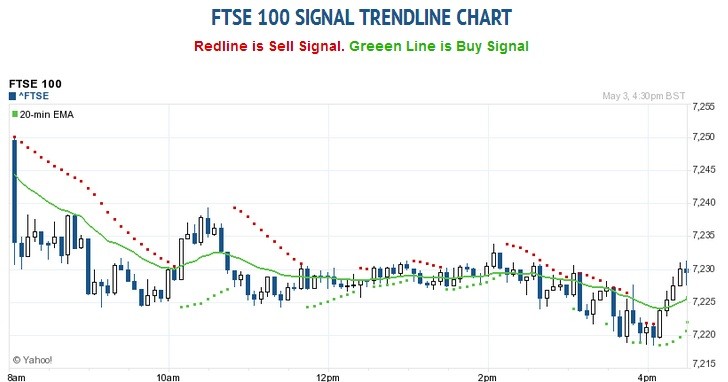 For the day the FTSE 100 closed at 7,234.53 with a loss of  –0.21% percent. France's CAC 40 with a loss of  –0.06% percent. Germany's DAX closed at 12,527.84 for up with +0.16% percent.
WORLD MARKETS
For the day the Dow are trading at 20,957.90 for up with +0.04% percent. The S&P 500 are trading at 2,388.13 with a loss of  –0.13% percent. The Nasdaq Composite are trading at 6,072.55 with a loss of  –0.37% percent.
In other parts of world, Japan's Nikkei 225 are trading at 19,445.70 for up with +0.70% percent. Hong Kong's Hang Seng are trading at 24,615.42 with a loss of –0.33% percent. China's Shanghai Composite are trading at 3,126.74 with a loss of  –0.28% percent. India's S&P BSE Sensex are trading at 30,008.43 for up with +0.38% percent as on 12:18 PM PM .